América Latina
y el Caribe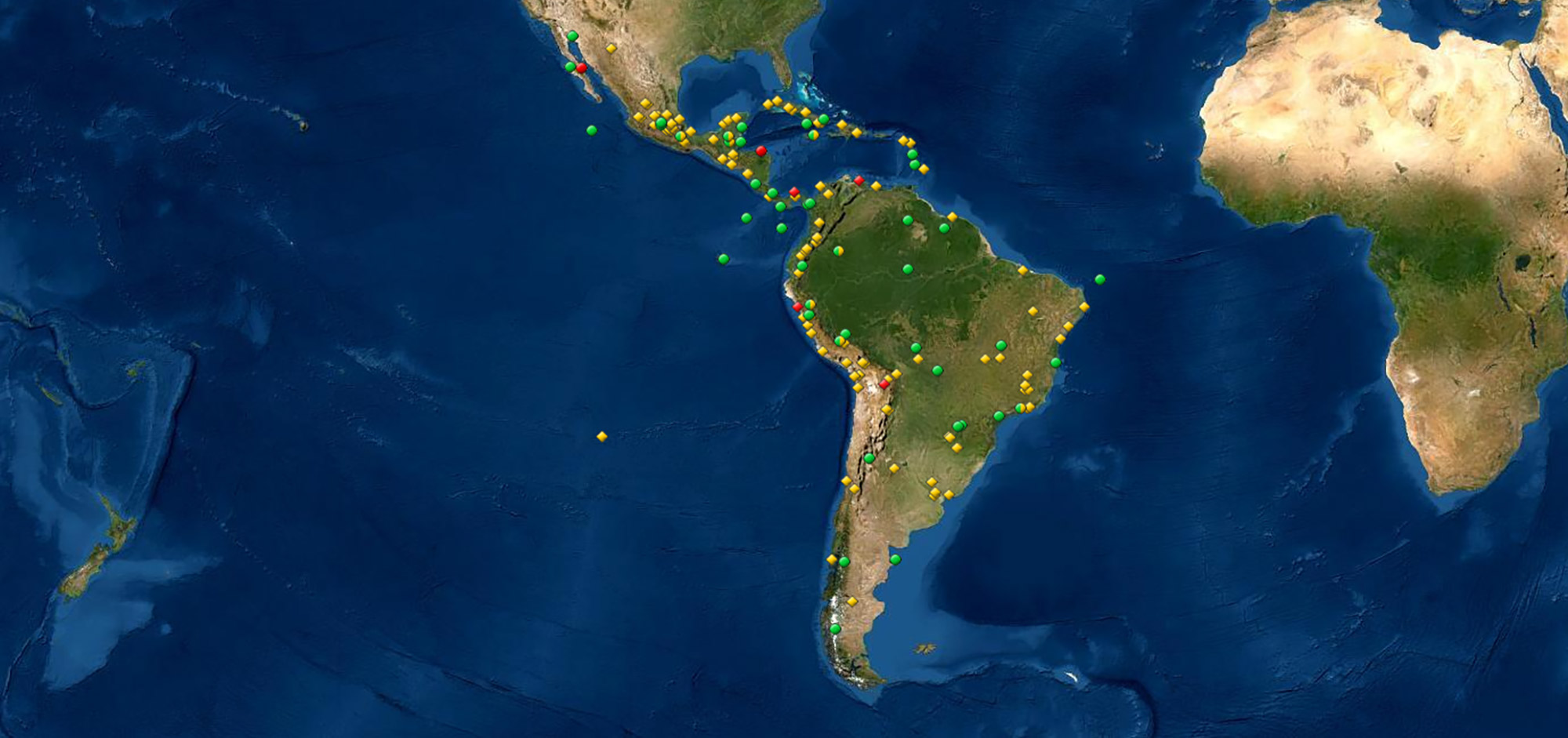 La región de América Latina y del Caribe posee un patrimonio natural y cultural de gran riqueza. Los 33 países de la Región han ratificado la Convención concerniente a la Protección del Patrimonio Cultural y Natural. La Región cuenta con 147 bienes inscritos en la Lista del Patrimonio Mundial como se indica a continuación:
Desde yacimientos arqueológicos de la época pre-hispánica, centros históricos excepcionalmente preservados a sobrecogedores emplazamientos naturales dotados de paisajes distinguidos por su biodiversidad, el Patrimonio Mundial de la región sirve como base para el fortalecimiento ulterior del desarrollo sostenible y del rol de las comunidades locales, vital para la gestión y protección del patrimonio. Un bien de Patrimonio Mundial protegido y gestionado correctamente contribuye de manera directa al desarrollo medioambiental, social y económico, y ayuda a construir una vida mejor para la comunidad local. Este proceso constituye un gran reto para los años que están por llegar, tanto para los Estados Parte de la Convención de 1972 como para la UNESCO.
4
Transboundary properties
Informe Periódico
El proceso del Informe Periódico en la región de América Latina y el Caribe
© UNESCO / Reunión final en Santiago de Chile, 2012 sobre el proceso del Informe Periódico en ALC
Third Cycle (2021)
Recalling that the 3rd cycle of Periodic Reporting (2018-2024) has already initiated in other regions, for Latin America and the Caribbean, the reporting exercise will be launched in October 2021. It will involve all properties inscribed on the World Heritage List from the region, including those inscribed by the Committee at its Extended 44th session of the World Heritage Committee in July 2021.
The objective of the Periodic Reporting is to reflect the work made by all the actors involved in the management and conservation of the sites and, comprehend how the World Heritage Convention is being implemented at national and local levels.
Guidance and Training Tools (English and Spanish) have been prepared to facilitate the filling up of the two Sections of the Questionnaire for the Third Cycle by National Focal Points and World Heritage Site Managers.
Segundo Ciclo (2013)
El objetivo del Segundo Ciclo fue el reforzar las capacidades de los Estados parte y apoyarlos a completar el ejercicio del Inventario Retrospectivo y actualización de las Declaraciones Retrospectivas de Valor Universal Excepcional en la Región ALC. El lanzamiento oficial del ejercicio se llevó a cabo en la 35a reunión del Comité del Patrimonio Mundial en 2011.
Primer Ciclo (2004)
El primer ciclo fue puesto en marcha de confomidad con los mecanismos de presentación de informes de Patrimonio Mundial (1998) y los Objetivos estratégicos de la Convención (2002). Este constituye el primer informe peródico del Patrimonio Mundial en la región ALC y fue evaluado por el Comité del Patrimonio Mundial en su 28a reunión (Suzhou, 2004).
Como seguimiento de la Decisión 37 COM 10A adoptada por el Comité del Patrimonio Mundial en su 37a reunión (Phnom Penh -2013) y basados en los resultados del segundo ciclo de Informes Periódicos, los Estados Partes de ALC, en estrecha colaboración con el Centro del Patrimonio Mundial, los Organismos Consultivos y los Centros de Categoría II, comenzaron a trabajar en la elaboración de los planes de acción regional y subregionales.
Plan de Acción
Planes de Acción regional y subregional
En su 38a reunión (Doha, 2014), el Comité felicitó a los Estados Partes de ALC por sus esfuerzos y adoptó el Plan de Acción para el Patrimonio Mundial de América Latina y el Caribe 2014-2024 y alentó a los Estados Partes en la elaboración de los planes subregionales (Decisión 38 COM 10B.4)
Planes de Acción regional
 As follow up of Decision 37 COM 10A adopted by the World Heritage Committee and based on the results of the 2nd cycle of the Periodic Reporting exercise, the LAC States Parties, in close cooperation with the World Heritage Centre, the Advisory Bodies and Category 2 Centres, developed the Regional Action Plan (PARALC, 2014-2024) to address the key challenges and priorities regarding World Heritage across the region.
Planes de Acción subregional
By Decision 38COM 10B.4, the Committee further encouraged the State Parties to continue working, in close cooperation with the World Heritage Centre, Advisory Bodies and the Region's Category 2 Centres, to develop sub-regional action plans, based on the Action Plan for World Heritage (PARALC 2014-2024) and building upon the achievements of the previous plan with a focus on the specific needs of each sub-region.
Desarrollo de Capacidades
Objetivo estratégico para la implementación de la Convención
© Category 2 Centre, Lucio Costa Centre / Rio de Janeiro, 2016
La falta de capacidad de gestión y de experiencia se ha determinado como una de las necesidades significativas para algunos países de la región, dificultándoles el garantizar una mejor protección de los sitios de Patrimonio Mundial dentro de su territorio.
Proyectos Extrapresupuestarios
Los proyectos financiados con recursos extrapresupuestarios constituyen una parte esencial del Plan de acción para el Patrimonio Mundial de la región. Estos favorecen la implementación de varias actividades de conservación y gestión que no pueden ser favorecidas únicamente con fondos del presupuesto ordinario. Gracias a estos donantes y socios, el Centro del Patrimonio Mundial y la Unidad de América Latina y el Caribe (CPM-ALC) es capaz de mejorar su quehacer en materia de conservación, gestión, asistencia técnica a través de seminarios, talleres, cursos de formación, creación de bases de datos y otros, entre otros.
Socios UNESCO-ALC fuera de sede
Oficinas fuera de sede
Las actividades de conservación, protección y de desarrollo de capacidades llevadas a cabo en la región se efectúan a través de la cooperación reforzada entre los Estados Parte, el Centro de Patrimonio Mundial, los Órganos Consultivos y las oficinas de la UNESCO sobre el terreno. La red de la oficinas sobre el terreno juegan un papel esencial en la implementación de actividades específicas.
Centros de Categoría II
Los Centros de Categoría II para el Patrimonio Mundial se crearon con el fin de asistir y de dar soporte a los Estados Parte de las tres subregiones de LAC con el fin de implementar la Convención del Patrimonio Mundial de 1972. Se han creado dos centros con este propósito:el Centro Regional de Formación en Gestión de Patrimonio Cultural, Centro Lucio Costa (CLC) en Rio de Janeiro para la subregión de América del Sur, y el Instituto Regional del Patrimonio Mundial en Zacatecas (IRPMZ), en México para la subregión de América Central y el Caribe.