In April 2021, the Government of Mali and UNESCO each received a symbolic euro from the International Criminal Court (ICC) as reparation for the damage inflicted on the people of Mali and the international community by the destruction of cultural property in Timbuktu in 2012.
The token sum represented a significant victory for heritage protection. For the first time, attacking a nation's cultural heritage was condemned as a war crime by an international court.
In 2012, Mali was undergoing a grave political and social crisis. The situation was particularly severe in the north, where two of Mali's four World Heritage sites, Timbuktu and the Tomb of Askia, are located. The region was occupied by armed groups who terrorized the population and deliberately destroyed cultural heritage of inestimable worth to local communities.
Timbuktu was inscribed on the World Heritage List in 1988 for its Outstanding Universal Value as an African intellectual and spiritual capital in the 15th and 16th centuries. Among its treasures were sixteen 13th century mausoleums of Muslim saints. Fourteen of these, as well as the sacred gate of the Sidi Yahia Mosque, would be demolished by the extremists. Some 4,200 ancient manuscripts were burned or stolen.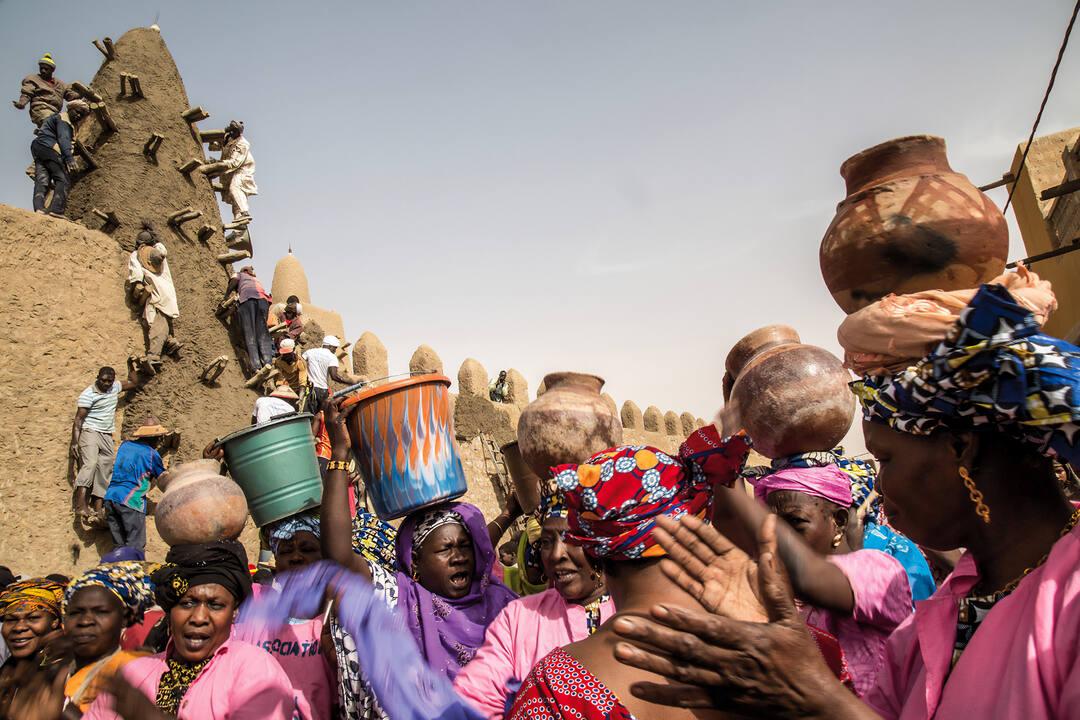 © UN Photo/Tiecoura Ndaou. The reconstruction and restoration of the earthen architectural heritage of Timbuktu highlighted the potential of cultural heritage as a tool to build peace and increase resilience.
As of May 2012, the Government of Mali sought help from the international community through UNESCO. Timbuktu and the Tomb of Askia were placed on the List of World Heritage in Danger and UNESCO initiated a series of major actions to assist Mali.
UNESCO started an awareness-raising campaign on the cultural significance of the mausoleums and their role in structuring the life of Timbuktu's inhabitants. A Malian 'Heritage Passport' was distributed to military personnel, with maps showing the most important cultural sites.
Following the adoption of UN Security Council Resolution 2100 in 2013, the United Nations Multidimensional Integrated Stabilization Mission in Mali (MINUSMA) collaborated with UNESCO to protect heritage sites. The Resolution recognized, for the first time, cultural heritage protection as an integral part of peacekeeping efforts.
In addition, Mali received support to accede in November 2012 to the 1999 Second Protocol to the Hague Convention of 1954 for the Protection of Cultural Property in the Event of Armed Conflict.
UNESCO went on to organize the reconstruction of the ancient mausoleums, the rehabilitation of three mosques and the safeguarding of the ancient manuscripts. The shrines were restored using traditional methods and local masons, revitalizing ancestral construction practices and boosting the local economy in the process.
UNESCO's effective action was made possible by close partnership with the Malian authorities, the communities and the masons' guild of Timbuktu, as well as MINUSMA.
In 2016, the ICC sentenced Ahmad Al Faqi Al Mahdi to nine years in prison for directing the shrines' destruction.
The chief prosecutor of the ICC, Fatou Bensouda, told AFP in 2021, 'When I began to investigate with my teams, people asked: "Why isn't Bensouda investigating crimes of blood? These are just buildings",' she said. 'But it was so important. We needed to send the message that destroying sites classified by UNESCO cannot go unpunished.'
'Mali's age-old heritage was targeted because it embodied the living soul of a society and a people. In the face of fanaticism, the Malians have given a lesson in tolerance, dialogue and peace,'