The first stage in the rehabilitation of cultural heritage of Timbuktu (Mali) is complete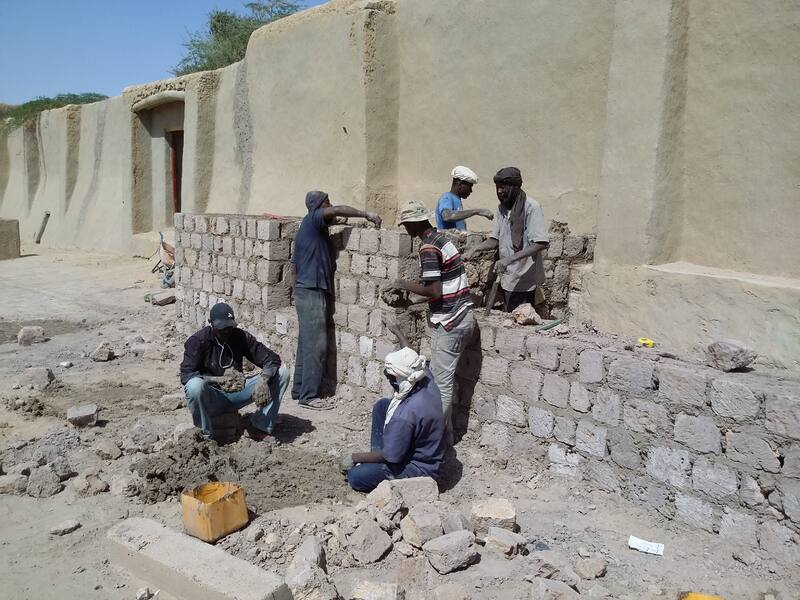 Monday, 14 April 2014
2 min read
Launched on 14 March 2014 in partnership with UNESCO, the rehabilitation work carried out on Sheik Baber Baba Idjé and Sheik Mahamane Al Fullani mausoleums of Timbuktu was completed this week.
Mausoleums, adjacent to the west side of the Djingareyber Mosque, had been razed to the ground by armed rebel groups on 10 July 2012.
Their reconstruction was thus carried out along the remnants of the original foundations, with the launch of the works preceded by the reading of the Koran. This ritual is of major religious importance for communities that in so doing are paying tribute to the spiritual masters of these mausoleums.
Under the technical supervision of national and international experts appointed by Mali's Ministry of Culture and UNESCO, teams of masons and laborers, native to the community, worked under the direction of masons responsible for each of the mausoleums and the Imam of the Djingareyber Mosque. The same local materials were used as in the original construction of destroyed mausoleums, namely land and limestone alhor.
This first stage of reconstruction was financed thanks to UNESCO's own funds, through the Special account for Mali established by the Director-General in 2012. Contributions came from the following four countries: Andorra, Croatia, Mauritius and the Kingdom of Bahrain.
A detailed report will be published at the end of the first phase of work. An analytical study on the social organization of work, the organization of construction and the cost of materials will also be carried out. This study will deepen the knowledge of the structure of these mausoleums and better inform and guide the reconstruction work on the other 12 affected mausoleums of Timbuktu inscribed on the World Heritage List. "The city of 333 saints", Timbuktu has 16 monuments on the World Heritage List, 14 of which have been destroyed.
The Director-General of UNESCO expressed her satisfaction, adding: "There is still much to be done, both in the field of culture - to rehabilitate the mausoleums, save and digitize the manuscripts, - and in the field of education - to ensure access to quality education for all Malians, which naturally remains a priority for UNESCO."