As countries around the world grapple with COVID-19, the global pandemic also threatens our close evolutionary 'cousins' and one of the world's most iconic threatened species - the mountain gorilla. 
UNESCO's Rapid Response Facility (RRF) has provided critical emergency support to Bwindi Impenetrable National Park, to safeguard one of the world's last remaining mountain gorilla populations from this potentially existential threat.

Worldwide, mountain gorillas (Gorilla beringei beringei) are found exclusively in Bwindi Impenetrable National Park and the Virunga Landscape (Uganda, Rwanda and the Democratic Republic of the Congo). Bwindi Impenetrable National Park, located in south west Uganda, is home to almost half the global population, with 459 individuals recorded in December 2018. However, the park is surrounded by one of the highest rural population densities in Africa with over 600 people per square kilometre, and pressures on this incredibly valuable forest are high. The COVID-19 pandemic presents a very real threat to the gorillas' survival as they are so closely related to humans. There is a risk of disease transmission to the gorillas, and it is not known how vulnerable they might be to this potentially deadly virus.
RRF is therefore providing emergency funding to Uganda Wildlife Authority to enable implementation of COVID-safe practices, such as use of personal protective equipment for staff interacting with habituated gorilla groups. Although all tourist visits have ceased, essential monitoring will be maintained to track population health during the pandemic, enabling a swift response to any possible disease outbreak.
As well as the risk of disease, there is also increased threat of illegal activities in the park resulting from the economic shutdown. For example, 822 snares were found in the park during March-April this year, compared to 21 in the same period in 2019. The devastating loss last week of Rafiki to poachers, one of Bwindi's most famous silverbacks, is evidence of the pressure the park and its precious biodiversity is under. Alongside keeping the gorillas safe from disease, support will also enable extended patrol efforts to cover the gorilla nests overnight, to counter the increased risk of poaching.
The Mountain Gorilla is a top priority for global conservation, and the population at Bwindi is the jewel in the crown of this natural World Heritage Site. The status of Mountain Gorilla changed from Critically Endangered to Endangered on the IUCN Red List in 2018, representing a rare conservation success story - it is vital that this recovery is not jeopardized. In stepping in to protect gorillas from the unpredicted and serious threat presented by the COVID-19 crisis, UNESCO's RRF is playing its part in ensuring the continued survival of this iconic species.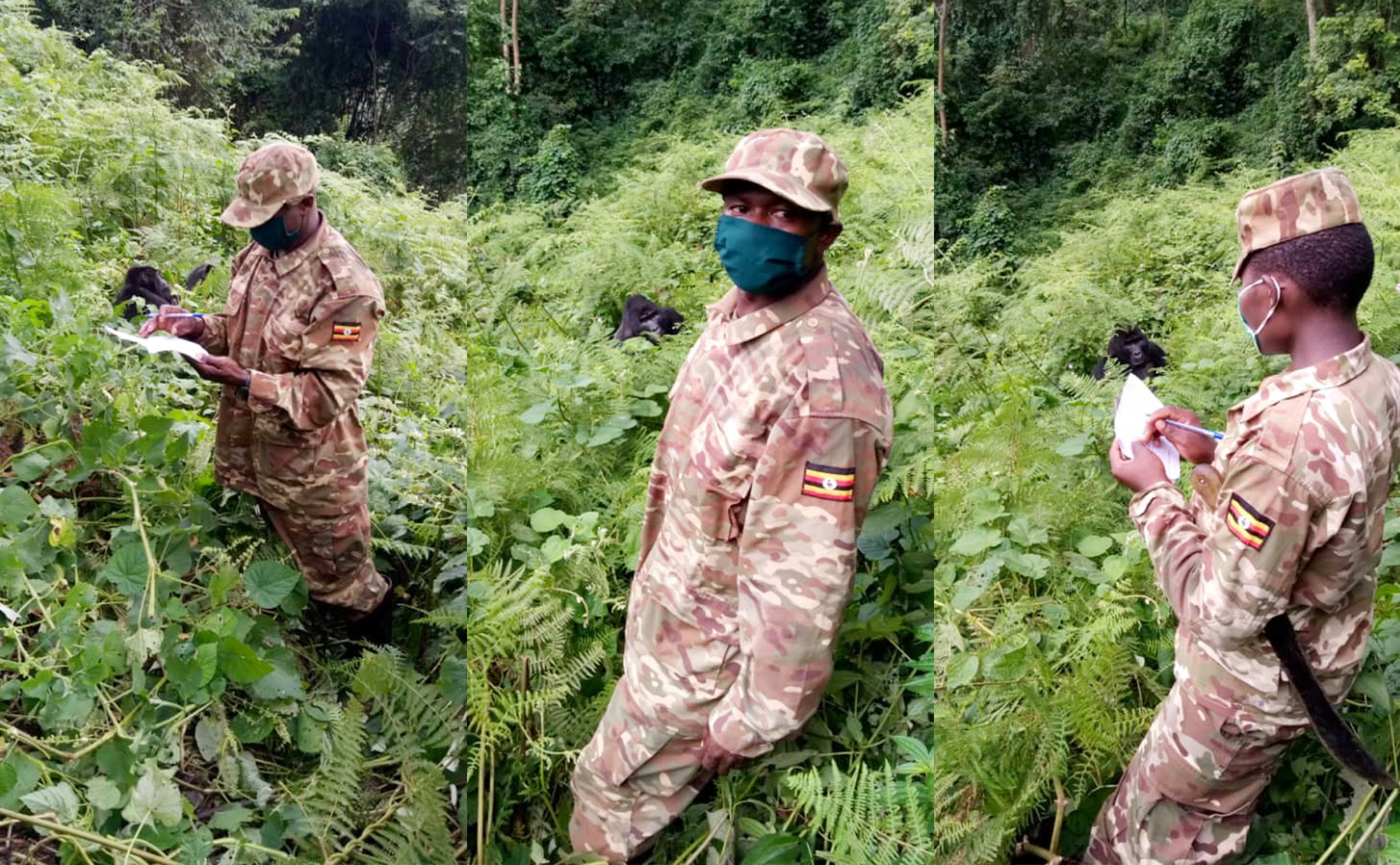 Gorilla monitoring and data collection while wearing face masks in Bwindi Impenetrable National Park World Heritage Site © Uganda Wildlife Authority
---
The World Heritage Centre thanks 
Fondation Franz Weber, Arcadia, Fondation Iris 
and the Government of Norway for their support to RRF.