World Heritage
World Heritage is the official UNESCO publication from the World Heritage Centre featuring in-depth articles on cultural and natural World Heritage sites. The quarterly review is produced in English, French and Spanish.
Subscribe to
World Heritage
Printed version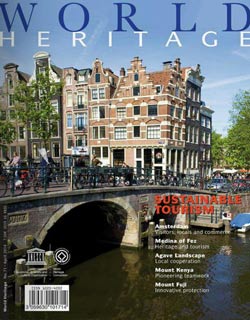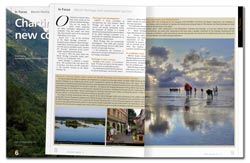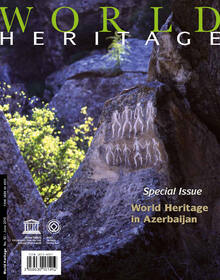 I am particularly pleased that the 43rd session of the World Heritage Committee will be held in Baku, Azerbaijan. We are very grateful to our generous hosts for organizing this session ...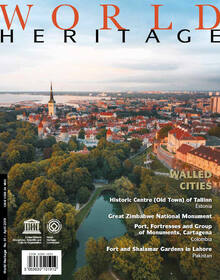 Historic urban walls were once used for division and protection, and remain a legacy of the complex relations between people and their environment. Today, they represent a fascinating aspect of cultural heritage management. ...
Quarterly magazine published jointly in English, French and Spanish, by the United Nations Educational, Scientific and Cultural Organization (UNESCO), Paris, France and Publishing For Development Ltd., London, United Kingdom.
Editorial Director: Mechtild Rössler (Director, UNESCO World Heritage Centre)
Editors: Gina Doubleday, Helen Aprile
Consulting Editor:
Vesna Vujicic-Lugassy
Co-Publisher: Richard Forster
Production Editor: Caroline Fort
Copy Editors: Cathy Nolan (English), Chantal Lyard (French), Luisa Futoransky (Spanish)
Editorial Board: ICCROM: Joseph King, ICOMOS: Regina Durighello, IUCN: Peter Shadie, UNESCO World Heritage Centre: Nada Al Hassan, Isabelle Anatole-Gabriel, Feng Jing, Edmond Moukala, Mauro Rosi, Petya Totcharova, UNESCO Publishing: Ian Denison
Advertising: Efrén Calatrava, Fernando Ortiz, Fadela Seddini, Peter Warren