Throughout 2018, the World Heritage Marine Programme led transformational changes at specific sites, furthered research on climate change impacts and advanced the fight against marine pollution.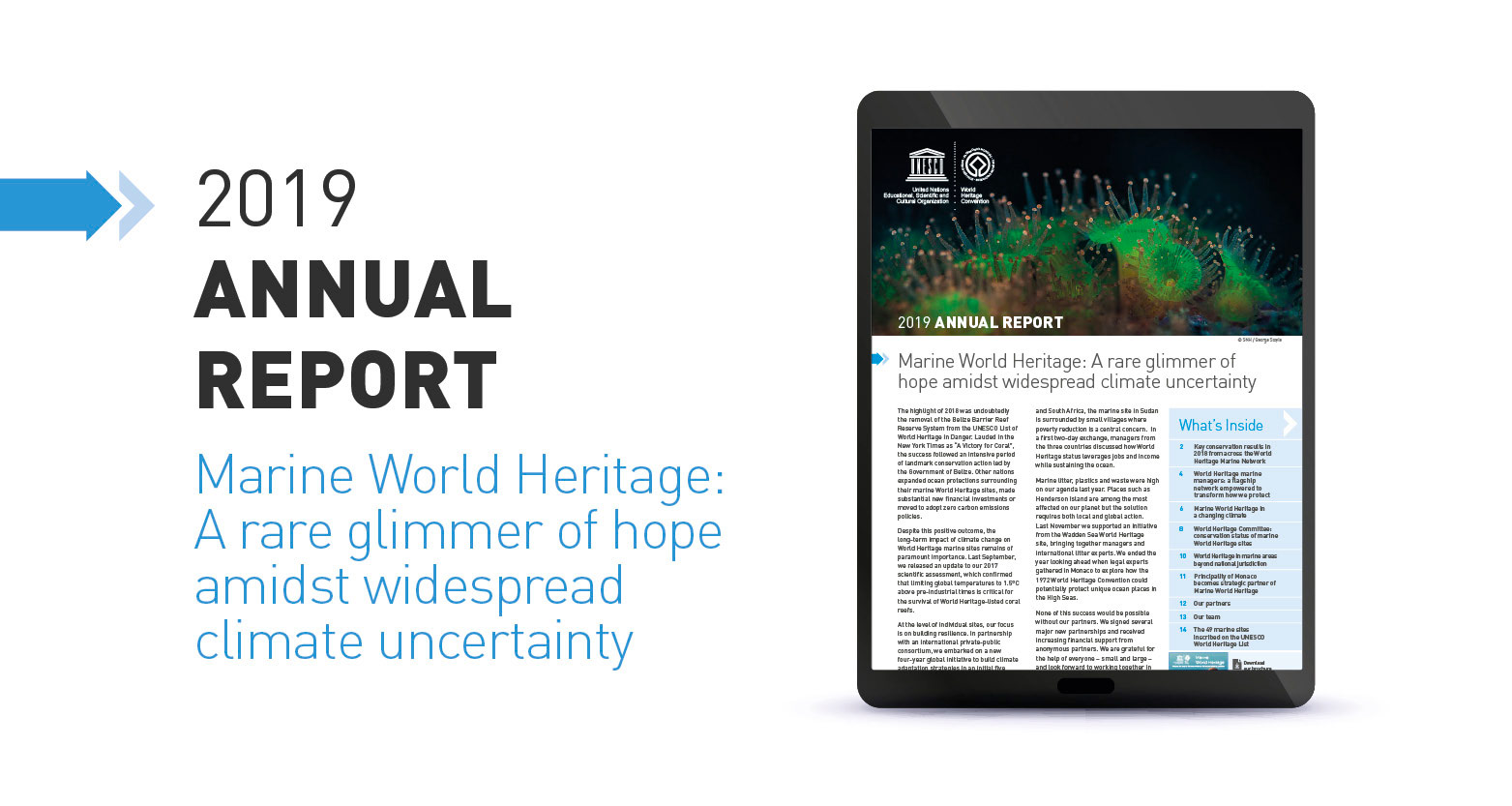 The highlight of 2018 was undoubtedly the removal of the Belize Barrier Reef Reserve System from the UNESCO List of World Heritage in Danger. Lauded in the New York Times as "A Victory for Coral", the success followed an intensive period of landmark conservation action led by the Government of Belize. Other nations expanded ocean protections surrounding their marine World Heritage sites, made substantial new financial investments or moved to adopt zero carbon emissions policies.
Despite this positive outcome, the long-term impact of climate change on World Heritage marine sites remains of paramount importance. Last September, we released an update to our 2017 scientific assessment, which confirmed that limiting global temperatures to 1.5°C above pre-industrial times is critical for the survival of World Heritage-listed coral reefs.
At the level of individual sites, the programme's focus is on building resilience. In partnership with an international private-public consortium, the marine team embarked on a new four-year global initiative to build climate adaptation strategies in an initial five marine World Heritage sites.
The programme's first south-south cooperation kicked off in Sudan last October. Similar to marine World Heritage sites in Mauritania and South Africa, the Sanganeb Marine National Park and Dungonab Bay – Mukkawar Island Marine National Park is surrounded by small villages where poverty reduction is a central concern. In a first two-day exchange, managers from the three countries discussed how World Heritage status leverages jobs and income while sustaining the ocean.
Marine litter, plastics and waste were also high on the agenda last year. Places such as Henderson Island are among the most affected on our planet but the solution requires both local and global action. Last November the World Heritage Marine Programme supported an initiative from the Wadden Sea World Heritage site, bringing together managers and international litter experts. The year was ended looking ahead when legal experts gathered in Monaco to explore how the 1972 World Heritage Convention could potentially protect unique ocean places in the High Seas.
None of this success would be possible without the support of key partners that support the World Heritage Marine Programme. The Centre signed several major new partnerships for marine World Heritage and received increasing financial support from anonymous partners.