Chan Chan Archaeological Zone
Peru
Factors affecting the property in 2002*
Identity, social cohesion, changes in local population and community
Land conversion
Management systems/ management plan
Other Threats:

Fragility of the abdobe structures
Factors* affecting the property identified in previous reports
Fragility of its adobe structures;
Occupation of land by farmers;
Need of a management plan
International Assistance: requests for the property until 2002
Requests approved: 5 (from 1987-1998)
Total amount approved : 118,700 USD
Missions to the property until 2002**
Conservation issues presented to the World Heritage Committee in 2002
At the time of preparation of this working document, the World Heritage Centre had not received the official report from the State Party requested by the Committee at its 25th session.
Summary of the interventions
Decisions adopted by the Committee in 2002
26 COM 21A.14
Chan Chan Archaeological Zone (Peru)
The World Heritage Committee,
1. Takes note of the important work initiated by the local authorities and congratulates the State Party for its declared willingness to correct the present situation;
2. Requests the State Party to present a progress report by 1 February 2003 on the work carried out for examination at its 27th session in June/July 2003;
3.
Decides
to maintain, in agreement with the State Party, the site on the List of World Heritage in Danger.
The Committee may wish to examine any additional information available during its 26th session and adopt a decision as appropriate.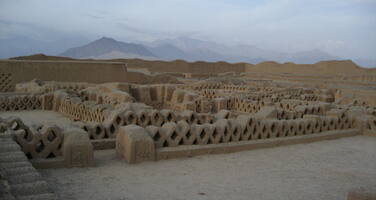 Peru
Date of Inscription:
1986
Category: Cultural

Criteria: (i)(iii)

Danger List (dates): 1986-present
Documents examined by the Committee
26COM (2002)
Exports
---
* : The threats indicated are listed in alphabetical order; their order does not constitute a classification according to the importance of their impact on the property.
Furthermore, they are presented irrespective of the type of threat faced by the property, i.e. with specific and proven imminent danger ("ascertained danger") or with threats which could have deleterious effects on the property's Outstanding Universal Value ("potential danger").
** : All mission reports are not always available electronically.