World Heritage
n°51 - December 2008
World Heritage n°51

The greater part of this issue is devoted to the reinstallation of the great stele of Aksum in Ethiopia, an exploit that ranks alongside such major UNESCO achievements as the safeguarding and restoration of the temples of Abu Simbel and Borobudur.
The stele, removed from Aksum in 1937 after Mussolini's army had marched into Ethiopia, was assembled and raised in Rome. It stood there until 2005, when it was finally taken apart again and returned to Ethiopia. The reinstalled stele was initially intended to serve as a royal funerary monument. Today, it is widely seen as a symbol of the country itself, and its return and restoration were enthusiastically welcomed by the population.
This important event has drawn well-warranted attention to the great civilization to which modern Ethiopia is heir: the Aksumite Empire. At the peak of its development (around 100 CE), this empire bordered both shores of the Red Sea and traded with India, China, Java, Somalia, the Near East and Southern Europe. Early 4th century coins marked with a cross attest to the country's conversion to Christianity at that time and, to this day, Aksum remains a major shrine of the Ethiopian Orthodox Church.
The stele's reinstallation was completed in July this year, and the historic, archaeological, political, logistical and engineering aspects of the venture are dealt with comprehensively in this issue. Other articles in this issue are devoted to sites of historic and aesthetic interest that have remained active centres of religious practice (Herb Stovel) and to sacred mountains, which are widely and spontaneously viewed as metaphors of an approach to the divinity (Edwin Bernbaum). The great Australian rock formation of Uluru (Ayers Rock), which is dealt with in a separate article, also falls into this category.
The 27 new sites inscribed on the World Heritage List this year during the Committee's 32nd session in Quebec, Canada, are described in this issue. They are of striking diversity, including natural sites renowned for their natural beauty and others for the insight they provide on the formation of mountains or volcanic islands, or the site in Mexico witnessing the annual visitation of perhaps a billion monarch butterflies. New cultural sites include one that attests to prehistoric agricultural practices in New Guinea and one on the Croatian island of Hvar, where ancient Greek agricultural practices have been preserved for some 2,400 years.
The fact that World Heritage institutions are venturing so widely into novel fields is an encouraging indication of our maturing approach to this subject. It also offers proof of how understanding of the significance of heritage is evolving worldwide.
Table of Contents
Special Report – The Reinstallation of the Aksum Obelisk
A step forward for UNESCO's cultural heritage policy
Interview - H.E. President of Ethiopia Girma Wolde Giorgis
The reinstallation of the Aksum Obelisk
History and archaeology of the ancient capital city of Ethiopia
Archaeological excavations at the World Heritage site of Aksum, Ethiopia
The engineering project
In Focus
Conserving the sacred: Special challenges for World Heritage sites
Mountains of spiritual World Heritage
World Heritage in Australia's desert heart: Uluru and Kata Tjuta National Park
Close-up
New World Heritage sites 2008: A presentation of the 27 new World Heritage sites inscribed at the 32nd session of the World Heritage Committee, Québec (Canada) in July 2008
Forum
Advisory Bodies: Living heritage at ICCROM
Conventions: The CBD Bonn Biodiversity Summit
Profile: The Pilgrim
News
Preservation
32nd session of the World Heritage Committee meets in Québec City
Ancient Villages of Northern Syria nomination file
Progress in Istanbul
Monitoring Um er-Rasas
In Danger
World Heritage Committee urges an end to building of bridge but keeps Dresden Elbe Valley on the List
Survey and consolidation and of the Minaret of Jam recommended
Corrective measures for the Bamiyan Valley to be continued
Outreach
Leaders of tomorrow, engaged actors of today
Sharing skills
Dzongsar Ngari Choedje Rinpoche
Volunteers mobilize for World Heritage preservation
Media on World Heritage
In Print and Online
A selection of books, brochures and publications, press articles and multimedia dedicated to World Heritage

Subscribe to
World Heritage
Printed version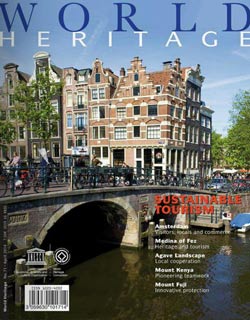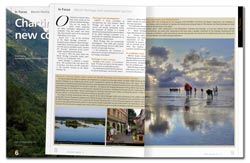 Download
the World Heritage app
Free for a limited time!

Available for iPad, Android and Kindle Fire tablets.
With the app, not only can you read exclusive articles written by experts on the ground, but see videos of the world's most spectacular sites taken by NHK and TBS.
Author
World Heritage Centre
Publisher
UNESCO - World Heritage Centre
Issue
51