World Heritage
World Heritage is the official UNESCO publication from the World Heritage Centre featuring in-depth articles on cultural and natural World Heritage sites. The quarterly review is produced in English, French and Spanish.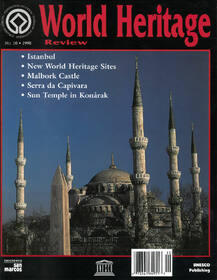 Istanbul Malbork Castle Dougga-Thugga Serra da Capivara Temple of the Sun in Konârak And also... New World Heritage Sites Senegal's World Heritage News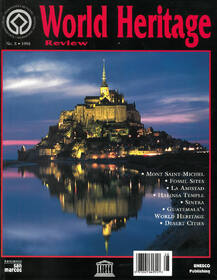 Mont Saint-Michel The History of Life La Amistad The Haeinsa Temple Desert Cities And also... Sintra Guatemala's World Heritage News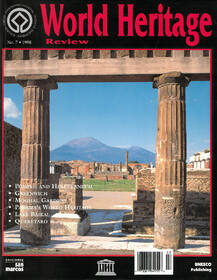 Pompeii and Herculaneum The Moghal Gardens Lake Baikal Las Médulas Querétaro And also... Site of Greenwich Interview with Prof. Francesco Francioni Panama's World Heritage News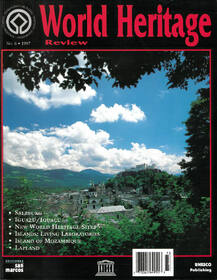 Salzburg The Iguazu / Iguaçu Falls Islands: Living Laboratories Island of Mozambique The Lapponian Area And also... An Interview with Antonio Bassolino New World Heritage Sites Photo prize winners News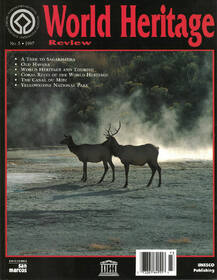 A trek to Sagarmatha Old City of Havana Coral Reefs The Canal du Midi Yellowstone National Park And also... An Interview with Christophe Charpentier Secrets of the Sea World Heritage and Tourism News Have ...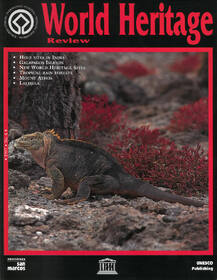 Holy Sites in India Galapagos Islands Tropical Rain Forests Mount Athos Lalibela And also... Interview with Galo Leoro Franco New World Heritage Sites The World Heritage Convention in Action News

Brasilia Mana-Pools Bergen and the Hanseatic Towns The Volcanoes on the World Heritage List Sana'a And also... Interview with leoh Ming Pei and Jean Lebrat News Cities for small planet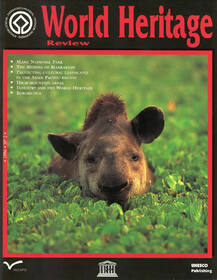 Manu National Park The Medina of Marrakech High Mountain Areas Industry and the World Heritage Borobudur And also... Interview with Ismail Serageldin Cultural Landscapes News
Quarterly magazine published jointly in English, French and Spanish, by the United Nations Educational, Scientific and Cultural Organization (UNESCO), Paris, France and Publishing For Development Ltd., London, United Kingdom.
Editorial Director: Mechtild Rössler (Director, UNESCO World Heritage Centre)
Editors: Gina Doubleday, Helen Aprile
Consulting Editor:
Vesna Vujicic-Lugassy
Co-Publisher: Richard Forster
Production Editor: Caroline Fort
Copy Editors: Cathy Nolan (English), Chantal Lyard (French), Luisa Futoransky (Spanish)
Editorial Board: ICCROM: Joseph King, ICOMOS: Regina Durighello, IUCN: Peter Shadie, UNESCO World Heritage Centre: Nada Al Hassan, Isabelle Anatole-Gabriel, Feng Jing, Edmond Moukala, Mauro Rosi, Petya Totcharova, UNESCO Publishing: Ian Denison
Advertising: Efrén Calatrava, Fernando Ortiz, Fadela Seddini, Peter Warren