The theme of International Youth Day 2020, "Youth Engagement for Global Action" aims to highlight the ways in which the engagement of young people at the local, national and global levels is enriching national and multilateral institutions and processes, as well as draw lessons on how their representation and engagement in formal institutional politics can be enhanced.
Our World Heritage is what we leave behind for future generations therefore we must educate young people to protect it. This year, the World Heritage Centre launched the UNESCO publication Empowering Youth for Heritage dedicated to the World Heritage Volunteers Initiative (WHV). The World Heritage Volunteers Initiative is organized within the UNESCO World Heritage Education Programme, led by the UNESCO World Heritage Centre (WHC) in collaboration with the Coordinating Committee for International Voluntary Service (CCIVS), European Heritage Volunteers (as a branch of Open Houses) and Better World.
From 2008, the WHV has developed into a rich and diverse effort involving the remarkable work of organizations, young volunteers, and communities mobilized around heritage conservation. Every year, the Initiative increases its impact, through the many action camps organized across the globe, involving thousands of volunteers.
The publication traces the journey of the Initiative, which started with just 12 action camps involving 153 volunteers in 2008. By the end of 2017 it had implemented a total of 341 action camps at 138 sites inscribed on the World Heritage List or Tentative Lists in 60 countries, involving 110 organizations and more than 5,000 volunteers. The publication also identifies best practices from each region, delving deeper into their promotion of youth participation and the lessons learnt.
Download the publication here: https://whc.unesco.org/en/news/2111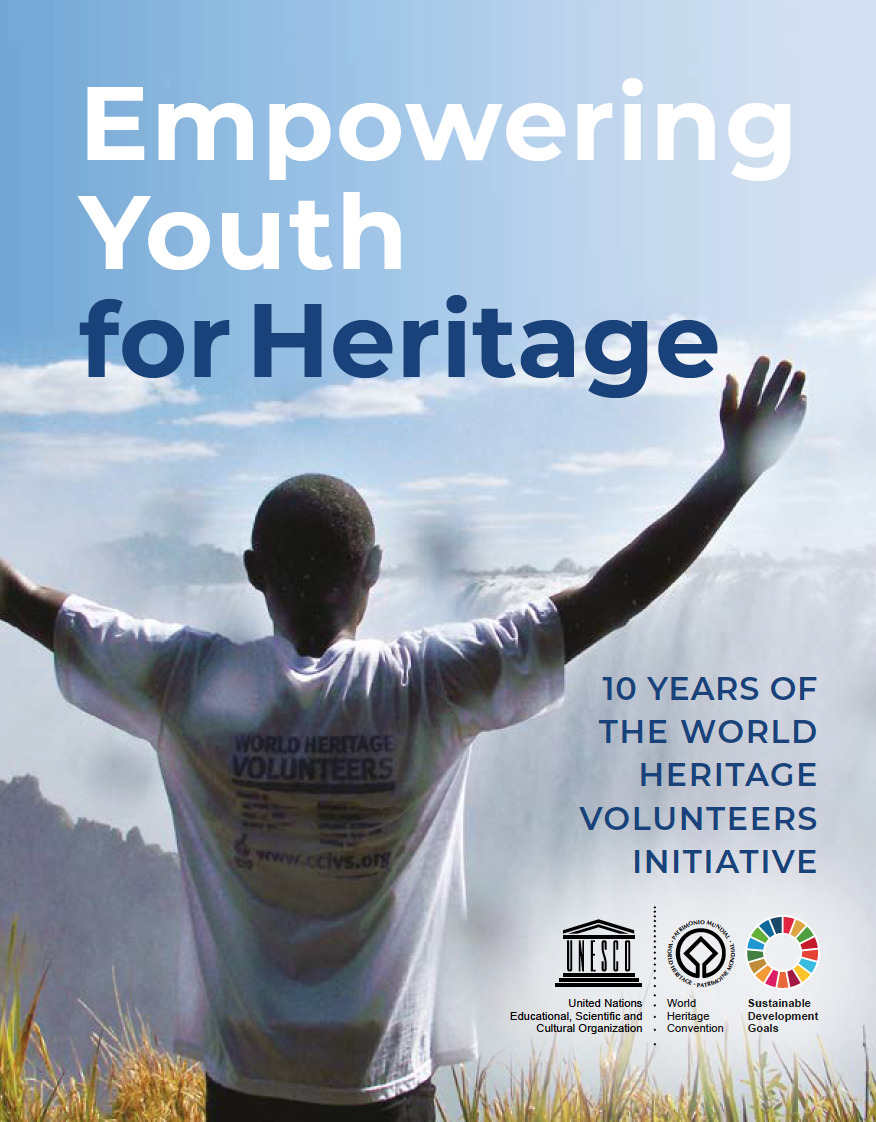 The 2020 edition of African World Heritage Day celebrated the theme "Youth, Entrepreneurship and Heritage Sustainability in Africa" with several initiatives including our collaboration with student and climate activist Vanessa Nakate for an Instagram Live session on the important role of youth in African World Heritage conservation. A recent example highlighting this potential role of youth involvement in World Heritage conservation took place in the Seychelles where a team of 12 young volunteers collected 25 tons of waste, including 60,000 plastic flipflops at Aldabra Atoll. This action was monumental in removing marine debris which accumulates on the beaches of even the most remote and pristine UNESCO marine World Heritage sites.
Despite the iconic status of UNESCO World Heritage sites, they face many challenges and as youth inherit World Heritage, our role in educating youth and theirs in preserving our heritage is priceless in ensuring our irreplaceable heritage remains for future generations.