Huascarán National Park
Peru
Factors affecting the property in 2001*
Effects arising from use of transportation infrastructure
Ground transport infrastructure
Illegal activities
Impacts of tourism / visitor / recreation
Legal framework
Mining
Factors* affecting the property identified in previous reports
Possible Bill in Congress to reduce the level of legal protection (issue resolved) 
Inappropriate tourism development proposals (issue resolved)
Over­grazing by domestic sheep (issue resolved)
Excessive burning (issue resolved)
Poaching by the military (issue resolved)
Low financial resources (issue resolved)
Cultural resources inventory of the site needed (issue resolved)
New road proposal connected to mining activities
International Assistance: requests for the property until 2001
Requests approved: 4 (from 1986-1993)
Total amount approved : 75,400 USD
Missions to the property until 2001**
Information presented to the Bureau of the World Heritage Committee in 2001
Previous deliberations:
Twenty-third session of the Committee – paragraph X.28 / Annex VIII page 92.
Twenty-fourth session of the Committee – paragraph VIII.25 / Annex X page 115.
Main issues: mining operation outside of the park and impacts on the site (road use etc.);
New information: The Peruvian authorities informed the Secretariat in a letter received 10 April 2001 that Antamina mining company has concluded it's work at the Ruta Central as specified in the Environmental Impact Assessment. During 2000 the Huascaran working group has held several meetings on mining, for revising the draft operative plan and for integrating the work done by different institutions which have activities within the Huascaran National Park. The Tourism Plan of Huascaran National Park is foreseen in the work plan for the Park. During 2001 the Management Plan for Huascaran National Park will be reformulated.
Action Required
Note: this report was presented to the Bureau for noting only.
Summary of the interventions
Decisions adopted by the Committee in 2001
25 BUR V.281
State of conservation
V.281 The Bureau took note of information that the Secretariat had provided in the working document on the state of conservation of the following properties:
Noel Kempff Mercado National Park (Bolivia)
Morne Trois Pitons National Park (Dominica)
Huascaran National Park (Peru)
Lake Baikal (Russian Federation)
Hatra (Iraq)
Hiroshima Peace Memorial (Genbaku Dome) (Japan)
Joya de Ceren Archaeological Site (El Salvador)
Cultural Landscape of Sintra (Portugal)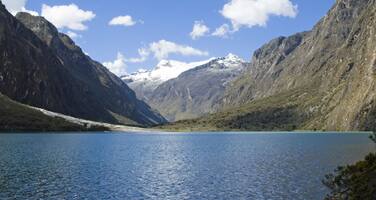 Peru
Date of Inscription:
1985
Category: Natural

Criteria: (vii)(viii)

Documents examined by the Committee
25COM (2001)
Exports
---
* : The threats indicated are listed in alphabetical order; their order does not constitute a classification according to the importance of their impact on the property.
Furthermore, they are presented irrespective of the type of threat faced by the property, i.e. with specific and proven imminent danger ("ascertained danger") or with threats which could have deleterious effects on the property's Outstanding Universal Value ("potential danger").
** : All mission reports are not always available electronically.