Huascarán National Park
Peru
Factors affecting the property in 1987*
Ground transport infrastructure
Illegal activities
Legal framework
Livestock farming / grazing of domesticated animals
Major visitor accommodation and associated infrastructure
Other Threats:

Fires
International Assistance: requests for the property until 1987
Requests approved: 2 (from 1986-1986)
Total amount approved : 35,400 USD
Missions to the property until 1987**
Conservation issues presented to the World Heritage Committee in 1987
This park is under a variety of threats.
First, there is a bill in Congress to reduce the level of legal protection by giving management control to the local authorities.
A new road proposal would have serious impacts on the Quilcayhuanca valley.
There is also some inappropriate tourism development proposals in the Llanganuco area.
Other management problems include over­grazing by domestic sheep, excessive burning and poaching by the military.
Analysis and Conclusion by World Heritage Centre and the Advisory Bodies in 1987
The Committee should express its concern over the problems that threaten the site and request the Government of Peru to provide a progress report on the current World Heritage funded project in the park.
Summary of the interventions
This report was not discussed during the World Heritage Committee session.
Decisions adopted by the Committee in 1987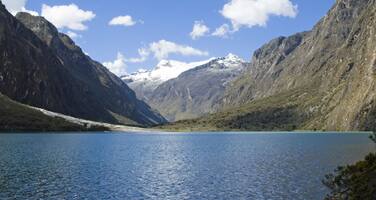 Peru
Date of Inscription:
1985
Category: Natural

Criteria: (vii)(viii)

Documents examined by the Committee
11COM (1987)
Exports
---
* : The threats indicated are listed in alphabetical order; their order does not constitute a classification according to the importance of their impact on the property.
Furthermore, they are presented irrespective of the type of threat faced by the property, i.e. with specific and proven imminent danger ("ascertained danger") or with threats which could have deleterious effects on the property's Outstanding Universal Value ("potential danger").
** : All mission reports are not always available electronically.