Ancient City of Damascus
Syrian Arab Republic
Factors affecting the property in 1999*
Factors* affecting the property identified in previous reports
Reconstruction works
International Assistance: requests for the property until 1999
Requests approved: 5 (from 1981-1998)
Total amount approved : 154,800 USD
Missions to the property until 1999**
Information presented to the Bureau of the World Heritage Committee in 1999
Summary of previous deliberations: At the request of the Syrian authorities, a mission was organised in February 1997 to investigate the structural damages of Tekiyeh as Suleymaniyeh, a Mosque built by the famous architect Sinan. It was considered that the damage was due to the rising of the level of groundwater. The mission facilitated the provision of monitoring equipment at the site and worked with the Syrian authorities in monitoring the structural movement. In February 1998, the team planned reinforcement measures and revised the tender documents, but this did not materialise.
At its twenty-second session, the Bureau, after having taken note of the report of the Secretariat, thanked the Syrian authorities for their efforts in addressing the issue of Tekiyeh as Suleymaniyeh. It also requested the Syrian authorities to keep the Secretariat informed of the progress of the consolidation work, and the Centre to continue this co-operation as requested by the authorities.
New Information: As reported to the Bureau, the Syrian authorities have been monitoring the structural condition of the Mosque of Tekiya Suleymanich since 1997. Consequently, the monument has been closed to the public. In February 1999, the Secretariat received a request from the Director –General of Antiquities and Museums to assist the authorities in reviewing the result of the monitoring. A structural engineer (President of ICOMOS International Scientific Committee on Analysis and Restoration of Structures of Architectural Heritage) visited the monument in March 1999 and the preliminary assessment was positive, permitting public access following minor reinforcement measures.
Action Required
The Bureau, having examined the state of conservation of the property, took note of the assessment of the structural conditions. The Bureau recommends that the Syrian authorities examine the assessment report and undertake the minor interventions described in the report.
Decisions adopted by the Committee in 1999
23 BUR IV.B.83
The Ancient City of Damascus (Syrian Arab Republic)
The Bureau listened to the results of the mission dispatched by the World Heritage Centre to the study structural damage of the Tekiyeh as Suleymaniyeh. After examination of the state of conservation of the site and the recommendations of this mission, the Bureau requested the Syrian authorities to undertake the minor interventions described in this report so that the monument may be opened to the public.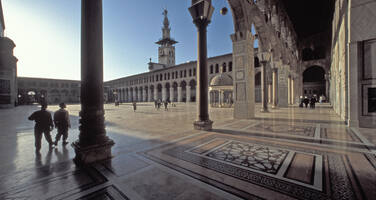 Syrian Arab Republic
Date of Inscription:
1979
Category: Cultural

Criteria: (i)(ii)(iii)(iv)(vi)

Danger List (dates): 2013-present
Documents examined by the Committee
23COM (1999)
Exports
---
* : The threats indicated are listed in alphabetical order; their order does not constitute a classification according to the importance of their impact on the property.
Furthermore, they are presented irrespective of the type of threat faced by the property, i.e. with specific and proven imminent danger ("ascertained danger") or with threats which could have deleterious effects on the property's Outstanding Universal Value ("potential danger").
** : All mission reports are not always available electronically.