Ancient City of Damascus
Syrian Arab Republic
Factors affecting the property in 1992*
International Assistance: requests for the property until 1992
Requests approved: 1 (from 1981-1981)
Total amount approved : 67,800 USD
Missions to the property until 1992**
Conservation issues presented to the World Heritage Committee in 1992
[Oral report by the Secretariat and ICOMOS]
Summary of the interventions
Decisions adopted by the Committee in 1992
16 COM VIII
SOC: Ancient City of Damascus (Syria)
Ancient City of Damascus (Syria)
The Deputy Director of the World Heritage Centre reported on the information unofficially transmitted to UNESCO expressing concern over the work being done on the western wall of the Mosque of the Omeyyades in Damascus (Syria). When invited by the Chairperson to provide clarification, the Delegate from Syria retraced the history of the Mosque and confirmed that the work in question is being effected on a wall built about twenty years ago to protect the Mosque's inner courtyard from the rain.
The ensuing discussion emphasized the need for the Centre to have a comprehensive and updated documentation available and for the State Party concerned to specify the type of intervention, which may vary from consolidation, restoration, renovation or reconstruction. One delegate pointed out that the States Parties must understand, when fears are expressed concerning a site or a monument inscribed on the List, that it is the duty of the Committee to follow up, in a spirit of openness and co-operation, by sending a mission to the site. This opinion was seconded by other delegates. One of them expressed the hope that the word "reconstruction" would never appear in the reports of the Committee and that a mission might visit Damascus in 1993 and that a report as detailed as the one devoted to the Vatican be submitted at the next meeting of the Bureau. Taking note of the favourable opinion of the Delegate from Syria, the Committee requested the Centre to send a technical mission in the first quarter of 1993.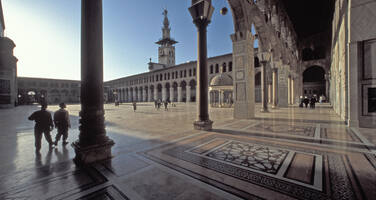 Syrian Arab Republic
Date of Inscription:
1979
Category: Cultural

Criteria: (i)(ii)(iii)(iv)(vi)

Danger List (dates): 2013-present
Documents examined by the Committee
16COM (1992)
Exports
---
* : The threats indicated are listed in alphabetical order; their order does not constitute a classification according to the importance of their impact on the property.
Furthermore, they are presented irrespective of the type of threat faced by the property, i.e. with specific and proven imminent danger ("ascertained danger") or with threats which could have deleterious effects on the property's Outstanding Universal Value ("potential danger").
** : All mission reports are not always available electronically.