Ancient City of Damascus
Syrian Arab Republic
Factors affecting the property in 1993*
Factors* affecting the property identified in previous reports
International Assistance: requests for the property until 1993
Requests approved: 2 (from 1981-1993)
Total amount approved : 87,300 USD
Missions to the property until 1993**
Conservation issues presented to the World Heritage Committee in 1993
The situation described in the last Bureau report still stands. The Syrian authorities were informed of the recommendations of the Bureau and were requested by the Centre to respond to these by 1st October 1993. At the time of writing this report, no information has been received at WHC from the Syrian authorities and it is hoped that ICOMOS will now urgently undertake the general monitoring mission to Syria to review the reconstruction work both at the Umayad Mosque and to other monuments in the old city of Damascus which have recently been undertaken without prior notification to the World Heritage Centre.
Summary of the interventions
Decisions adopted by the Committee in 1993
17 BUR VIII.2
Damascus (Syria)
The Bureau recalled the Committee's request at its sixteenth session that the Centre undertake a mission to review the state of conservation of the Umayyad Mosque in Damascus following the information received on reconstruction works being undertaken at the main entrance of the Mosque. It expressed its regret that certain factors had precluded this mission from taking place and requested that ICOMOS undertake a general monitoring mission to Syria to review not only progress made in the works at the Mosque, but also the state of conservation of the Old City of Damascus.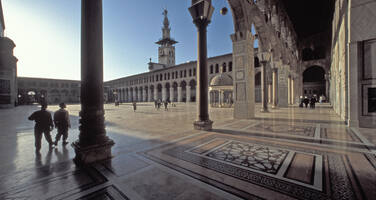 Syrian Arab Republic
Date of Inscription:
1979
Category: Cultural

Criteria: (i)(ii)(iii)(iv)(vi)

Danger List (dates): 2013-present
Documents examined by the Committee
17COM (1993)
Exports
---
* : The threats indicated are listed in alphabetical order; their order does not constitute a classification according to the importance of their impact on the property.
Furthermore, they are presented irrespective of the type of threat faced by the property, i.e. with specific and proven imminent danger ("ascertained danger") or with threats which could have deleterious effects on the property's Outstanding Universal Value ("potential danger").
** : All mission reports are not always available electronically.