Baalbek
Lebanon
Factors affecting the property in 1999*
Management activities
Management systems/ management plan
Relative humidity
Water (rain/water table)
Factors* affecting the property identified in previous reports
Water infiltration affecting the walls
Road project
Lack of master plan
Extensive rehabilitation work contrary to established procedures
International Assistance: requests for the property until 1999
Requests approved: 2 (from 1998-1999)
Total amount approved : 10,000 USD
Missions to the property until 1999**
Information presented to the Bureau of the World Heritage Committee in 1999
New information: In March 1999, the Centre was requested by the Lebanese Director-General of Antiquities to assist them in evaluating the restoration works of the Umayyads Mosque located in front of the Roman ruin. The Centre will organise an expert mission in June as a reactive monitoring of the site. The result will be presented to the members of the Bureau at its twenty-third session. As for the stone analysis of the Temple of Bacchus, the preliminary survey on the monument was carried out and the data was transmitted to laboratories in France. Upon receipt of the results, proposals for the protection of the Temple of Bacchus will be prepared.
Action Required
The Bureau may wish to examine information that will be provided at the time of its session and take the appropriate decision thereupon. For the Temple of Bacchus, the Bureau may wish to request the Secretariat to continue collaboration for the preservation of the monument. Finally, the Bureau may wish to remind the Lebanese authorities of the necessity of producing a management plan.
Decisions adopted by the Committee in 1999
23 BUR IV.B.65
Baalbek (Lebanon)
After having examined the report of the Secretariat on the protection of the stones of the Temple of Bacchus and the results of the mission carried out to evaluate the restoration of the Great Mosque, the Bureau requested that the Secretariat continues co-operation for the conservation of the Temple of Bacchus. The Bureau also recommended to the Lebanese authorities that work should not recommence at the Great Mosque and no transformation should be envisaged. It also recommended the Lebanese authorities to provide a management plan of the site before the end of September for submission to the twenty-third session of the World Heritage Committee.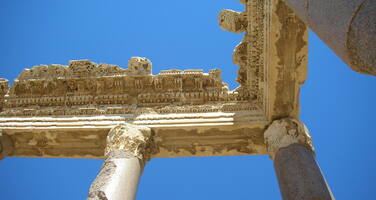 Lebanon
Date of Inscription:
1984
Category: Cultural

Criteria: (i)(iv)

Documents examined by the Committee
23COM (1999)
Exports
---
* : The threats indicated are listed in alphabetical order; their order does not constitute a classification according to the importance of their impact on the property.
Furthermore, they are presented irrespective of the type of threat faced by the property, i.e. with specific and proven imminent danger ("ascertained danger") or with threats which could have deleterious effects on the property's Outstanding Universal Value ("potential danger").
** : All mission reports are not always available electronically.