Group of Monuments at Hampi
India
Factors affecting the property in 2002*
Ground transport infrastructure
Impacts of tourism / visitor / recreation
Management systems/ management plan
Factors* affecting the property identified in previous reports
Major increase in heavy goods traffic (issue resolved)
Dismantling and reconstruction of an important historic monument (issue resolved)
Serious problems in the implementation of cultural heritage policies and regulations
Lack of a comprehensive management approach and plan
Lack of co-ordinating authority
Rural development pressure and ad-hoc public works, including the construction of two suspension bridges


International Assistance: requests for the property until 2002
Requests approved: 1 (from 2001-2001)
Total amount approved : 17,370 USD
Missions to the property until 2002**
February 2000: joint UNESCO/ICOMOS reactive monitoring mission; October 2001: UNESCO International Planning Expert mission
Conservation issues presented to the World Heritage Committee in 2002
The World Heritage Centre had not received further information concerning the establishment of a special administrative body empowered to ensure integrated development and conservation of the whole World Heritage protected areas. This body, for which the Karnataka State Government had been taking legal steps to establish, would primarily co-ordinate various development and cultural and natural heritage conservation activities within the World Heritage protected areas.

The World Heritage Centre commenced the preparation for the implementation of a project funded by voluntary contributions from a Swedish Tourism conglomerate, TEMA, amounting to US$ 80,000 for the rehabilitation of one historic building within Hampi into a Heritage House for Enhanced Management of the World Heritage protected areas.

The World Heritage Centre, English Heritage and the Indian Authorities agreed upon dates in May 2002 for a Study Tour to the United Kingdom for the regional and national site-managers of Hampi to share site-management experiences with English Heritage.

Following the request of the Committee at its twenty-fifth session, the World Heritage Centre expects to receive further updated information concerning the progress.
Decisions adopted by the Committee in 2002
TheCommittee may wish to examine any additional information at the time of its session, and adopt a decision as appropriate.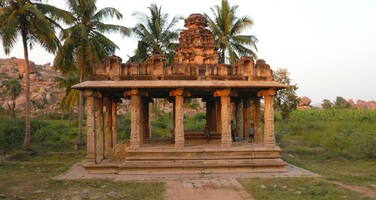 India
Date of Inscription:
1986
Category: Cultural

Criteria: (i)(iii)(iv)

Danger List (dates): 1999-2006
Documents examined by the Committee
26COM (2002)
Exports
---
* : The threats indicated are listed in alphabetical order; their order does not constitute a classification according to the importance of their impact on the property.
Furthermore, they are presented irrespective of the type of threat faced by the property, i.e. with specific and proven imminent danger ("ascertained danger") or with threats which could have deleterious effects on the property's Outstanding Universal Value ("potential danger").
** : All mission reports are not always available electronically.