Old City of Dubrovnik
Croatia
Factors affecting the property in 1997*
Earthquake
Legal framework
Management systems/ management plan
Factors* affecting the property identified in previous reports
Armed conflict;
Need to extend the buffer zone;
Earthquake in September 1995
International Assistance: requests for the property until 1997
Requests approved: 6 (from 1985-1994)
Total amount approved : 129,010 USD
Missions to the property until 1997**
November 1995: fact-finding mission
Conservation issues presented to the World Heritage Committee in 1997
The Committee at its twentieth session requested the State Party to submit, by 15 September 1997, an overall state of conservation report, so the Committee may consider whether Dubrovnik could be deleted from the List of World Heritage in Danger.
At the date of preparation of this document no report had been received by the Secretariat.
Analysis and Conclusion by World Heritage Centre and the Advisory Bodies in 1997
The Committee may wish to examine information that may be available at the time of its session and take appropriate action thereupon.
Decisions adopted by the Committee in 1997
21 COM VII.B.26
SOC: Old City of Dubrovnik (Croatia)
VII.26 Old City of Dubrovnik (Croatia)
The Delegate of Croatia informed the Committee that considerable progress had been made in the reconstruction and restoration of Dubrovnik and that an expert committee will meet in January 1998 to review the state of conservation of the city and that the Croatian authorities will inform the Bureau and the Committee of its findings.
The Committee decided to defer the examination of the state of conservation of Dubrovnik and requested the Croatian authorities to submit a report on the state of conservation by 15 April 1998 for examination by the twenty-second session of the Bureau.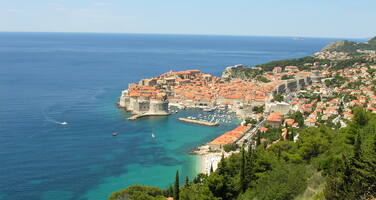 Croatia
Date of Inscription:
1979
Category: Cultural

Criteria: (i)(iii)(iv)

Danger List (dates): 1991-1998
Documents examined by the Committee
21COM (1997)
Exports
---
* : The threats indicated are listed in alphabetical order; their order does not constitute a classification according to the importance of their impact on the property.
Furthermore, they are presented irrespective of the type of threat faced by the property, i.e. with specific and proven imminent danger ("ascertained danger") or with threats which could have deleterious effects on the property's Outstanding Universal Value ("potential danger").
** : All mission reports are not always available electronically.