Djoudj National Bird Sanctuary
Senegal
Factors affecting the property in 1991*
Other Threats:

Training course on wetland management
Factors* affecting the property identified in previous reports
Construction of a dam (issue resolved)
International Assistance: requests for the property until 1991
Requests approved: 3 (from 1980-1988)
Total amount approved : 69,132 USD
Missions to the property until 1991**
Conservation issues presented to the World Heritage Committee in 1991
[Oral report by IUCN and the Secretariat]
Summary of the interventions
Decisions adopted by the Committee in 1991
15 BUR VI.44
Djoudj National Park (Senegal)
Since this site was removed from the List of World Heritage in Danger in 1988, IUCN, in co-operation with the Direction des Parcs Nationaux du Senegal (DPN) and the Netherlands Research Institute of Nature Management, has prepared an up-date of actions on the management plan with special emphasis on the interactions between the Park and the surrounding communities. IUCN's Regional Office in Dakar, Senegal, organized a Wetland Management Training Course, from 4-15 March 1991, for twelve students from Guinea, Guinea-Bissau, Mali and Senegal, as part of IUCN's Wetland Programme activities, and with financial support from the Government of Netherlands. As a result of the training course a wetland training manual will be published. The Bureau recommended that the Committee take note of these positive actions in furthering the recovery of the Djoudj National Park.
15 COM VIII
SOC: Djoudj National Park (Senegal)
Djoudj National Park (Senegal)
The Committee recalled that this site was taken off the List of World Heritage in Danger in 1988, and since then had been the location of a training course from 4-15 March 1991 on Wetland Management, jointly organized by the National Parks Service of Senegal, IUCN's Wetland Programme and the Netherlands Research Institute for Nature Management.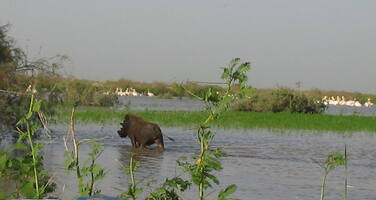 Senegal
Date of Inscription:
1981
Category: Natural

Criteria: (vii)(x)

Danger List (dates): 1984-1988, 2000-2006
Documents examined by the Committee
15COM (1991)
Exports
---
* : The threats indicated are listed in alphabetical order; their order does not constitute a classification according to the importance of their impact on the property.
Furthermore, they are presented irrespective of the type of threat faced by the property, i.e. with specific and proven imminent danger ("ascertained danger") or with threats which could have deleterious effects on the property's Outstanding Universal Value ("potential danger").
** : All mission reports are not always available electronically.