Srebarna Nature Reserve
Bulgaria
Factors affecting the property in 1991*
Livestock farming / grazing of domesticated animals
Surface water pollution
Water (extraction)
Water infrastructure
Other Threats:

Loss of biodiversity
International Assistance: requests for the property until 1991
Requests approved: 0
Total amount approved : 0 USD
Missions to the property until 1991**
Conservation issues presented to the World Heritage Committee in 1991
[Oral report by IUCN and the Secretariat]
Summary of the interventions
Decisions adopted by the Committee in 1991
15 COM VIII
SOC: Srebarna Biosphere Reserve (Bulgaria)
Srebarna Biosphere Reserve (Bulgaria)
The Committee was concerned to note that the water quality and balance in this small World Heritage site (600 ha) has deteriorated to such an extent that the site is no longer ecologically viable; large colonies of water birds, except for the Dalmation Pelican, are absent, and many of the passerine species have emigrated or occur only in low numbers. The Committee recognized that most problems were attributable to the slow drying of the lake bed, exacerbated by upstream development projects, impacts of nearby pig farms and a rise in the wild boar population. The Committee, while awaiting the results of a joint Ramsar/World Heritage field mission to assess whether the site still meets criterion (iv), recommended that the Secretariat request the Bulgarian Ministry of Environment to nominate this site to the List of World Heritage in Danger.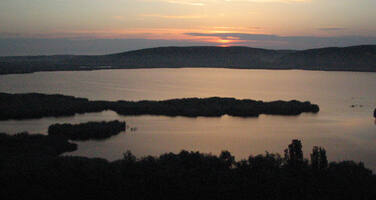 Bulgaria
Date of Inscription:
1983
Category: Natural

Criteria: (x)

Danger List (dates): 1992-2003
Documents examined by the Committee
15COM (1991)
Exports
---
* : The threats indicated are listed in alphabetical order; their order does not constitute a classification according to the importance of their impact on the property.
Furthermore, they are presented irrespective of the type of threat faced by the property, i.e. with specific and proven imminent danger ("ascertained danger") or with threats which could have deleterious effects on the property's Outstanding Universal Value ("potential danger").
** : All mission reports are not always available electronically.