Wieliczka and Bochnia Royal Salt Mines
Poland
Factors affecting the property in 1988*
Relative humidity
Water (rain/water table)
Other Threats:

Gradual degradation
Factors* affecting the property identified in previous reports
Cave-ins;
Subsidence;
Water seepage;
Harmful atmospheric elements
International Assistance: requests for the property until 1988
Requests approved: 0
Total amount approved : 0 USD
Missions to the property until 1988**
Conservation issues presented to the World Heritage Committee in 1988
In view of the serious degradation of this property inscribed on the World Heritage List in 1978, Poland, which anticipates restoration work over a period of thirty years, requested on 31 March 1988 that the Wieliczka Salt Mine be inscribed on the World Heritage List in Danger. Such a request had already been submitted by Poland in 1984, but at its eighth session, the Committee considered that there was insufficient geological information to evaluate the dangers facing this property.
At its twelfth session, the Bureau expressed the wish that an in-depth study of the situation be carried out so as to enable the Committee to take a decision. Despite the repeated efforts of the Permanent Delegate of Poland to Unesco, and due to the complex situation, the required information was not available.
Summary of the interventions
Decisions adopted by the Committee in 1988
12 BUR IX.24
Requests for technical co-operation and training
24. Since ICOMOS was not yet in a position to provide accurate evaluation of the threats to the integrity of the following 2 properties, the Bureau recommended that the Committee's decision on the 2 requests be taken after further study has been carried out:
1. Urgent measures for strengthening the foundations of the wall and to study methods of reconstructing doors, windows and other wooden elements at Bahla Fort (Oman).
2. Equipment and technical assistance needed for restoration work at Wieliczka Salt Mine (Poland).
12 COM XIV.D
Deferred Inscription on the List of World Heritage in Danger: Wieliczka Salt Mine (Poland)
Wieliczka Salt Mine
32
Poland
In the absence of information on the state of conservation of this property and the most urgent needs in terms of protection thereof, the Committee requested that a mission be organized to seek such information before the next session of the Bureau. Therefore, a decision on this matter was deferred.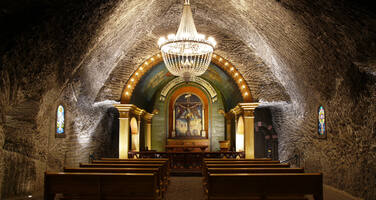 Poland
Date of Inscription:
1978
Category: Cultural

Criteria: (iv)

Danger List (dates): 1989-1998
Documents examined by the Committee
12COM (1988)
Exports
---
* : The threats indicated are listed in alphabetical order; their order does not constitute a classification according to the importance of their impact on the property.
Furthermore, they are presented irrespective of the type of threat faced by the property, i.e. with specific and proven imminent danger ("ascertained danger") or with threats which could have deleterious effects on the property's Outstanding Universal Value ("potential danger").
** : All mission reports are not always available electronically.