"We stand together" to protect Iraq's cultural heritage, says French President with UNESCO Director-General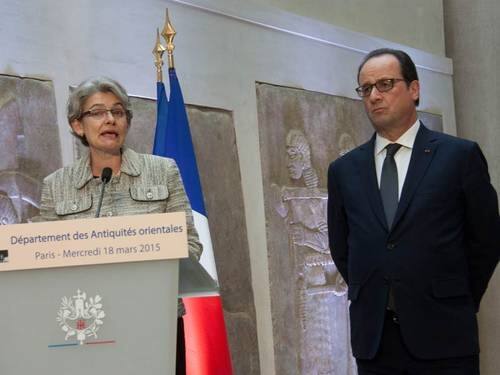 Wednesday, 18 March 2015
at 22:00
2 min read
UNESCO Director-General Irina Bokova and French President Francois Hollande today sent a strong message of solidarity to the people of Iraq and Syria, and reiterated the urgent need to safeguard cultural heritage of both countries.
President Hollande and the Director-General Bokova met at the Louvre Museum in Paris, which houses several major works reflecting the splendid cultural achievements of Mesopotamia. Their meeting took place as news was breaking of the deadly attack in the Bardo Museum in Tunis, which they firmly denounced. 
The President and the Director-General also unequivocally condemned as war crimes the deliberate destruction of several cultural heritage sites in Iraq over recent weeks and months by the extremists known as Daesh..  They include the Mosul Museum, the World Heritage site of Hatra, Nimrud and Khorsabad. They stressed their determination to work together against the illicit traffic of cultural goods from this "cradle of civilization".
"It is because Daesh wants to destroy the people, that Daesh is destroying culture," the Director-General said. "It's part of a strategy of 'cultural cleansing' under which minorities are being persecuted and their heritage destroyed along with everything that embodies diversity and free thinking.
"This is not just a cultural tragedy," Ms Bokova continued. "It's also a security issue, with terrorists using the destruction of heritage as a weapon of war, an instrument of propaganda and destabilization, and as a means of financing their operations."
President Hollande commended UNESCO's efforts to defend cultural heritage, and promised France's unswerving support. "We stand together" the President said. "We are all concerned when works that are the heritage of humanity are destroyed." 
Since the start of the conflicts in Syria and then in Iraq, UNESCO has rallied the international community to protect of cultural heritage from Iraq and Syria and stop the pillage and illicit traffic of cultural goods from both countries. To this end, the Organization is working closely with experts from Iraq, Syria and many other countries, along with intergovernmental and non-governmental partners including Interpol, the World Customs Organization, museums, leading auction houses and national governments in surrounding countries, to block black market trade in artefacts and train specialists in to, where possible, bolster protection for cultural sites. 
In Beirut, the Organization established a heritage observatory, which closely monitors the situation, and provides counsel and training for museum and security staff.  
These efforts led to the adoption by the UN Security Council on 12 February, 2015, of resolution 2199, which explicitly  recognizes the link between illicit traffic and security, outlaws all trade un cultural goods from Iraq and Syria and requests that UNESCO coordinate efforts in this domain with Interpol. 
Building on this progress, UNESCO will bring together several partner agencies and leading cultural non-governmental organizations on 1 April to further discuss the situation and lay the groundwork for a  broad coalition for the protection of heritage. On 18 May, the States Parties to the Convention against Illicit Traffic will meet at UNESCO Headquarters, and on 28 May the Organization is preparing a meeting with  the heads of the world's leading museums on the issue.
---
Media Contact
Sue Williams, UNESCO Press Service
Tel: +33 (0)1 4568 1706; +33 (0)6 15 92 93 62;
s.williams(at)unesco.org
Wednesday, 18 March 2015
at 22:00
2 min read
World Heritage Properties
1