Yellowstone National Park
United States of America
Factors affecting the property in 1994*
International Assistance: requests for the property until 1994
Requests approved: 0
Total amount approved : 0 USD
Missions to the property until 1994**
Information presented to the Bureau of the World Heritage Committee in 1994
[Information presented orally by the Delegate of the United States of America]
Summary of the interventions
Decisions adopted by the Committee in 1994
18 BUR VI.B
Yellowstone (United States of America)
The Delegate of the United States informed the Bureau about a report concerning Yellowstone National Park, inscribed on the World Heritage List in 1978. The Park is faced with a proposed mining project of a gold mine two miles north of the northeast boundary of the site. The area concerned is both public and private with 20% under the administration of the US Forest Service. The mine would remove 56 acres of wetlands to build an artificial lake and would call for construction of access roads and housing for the workers. The economic value of the project is estimated at US$ 1 billion in recoverable gold, silver and copper. The mine sits at the head of three drainages, one of which, Soda Butte Creek, flows into the National Park. Thus, potential threats would be the degradation of surface and ground water, the changes in water quantity, as well as the displacement of wildlife and other disturbances. The Delegate underlined that the United States will keep the Committee and its Bureau informed about further developments. The Observer from Canada stressed that the Canadian Government will check about direct or indirect Government-support for the parent company of the proposed mine.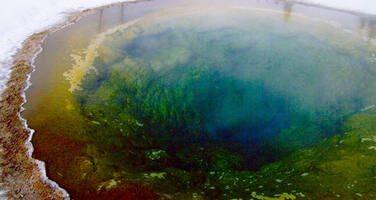 United States of America
Date of Inscription:
1978
Category: Natural

Criteria: (vii)(viii)(ix)(x)

Danger List (dates): 1995-2003
Documents examined by the Committee
18COM (1994)
Exports
---
* : The threats indicated are listed in alphabetical order; their order does not constitute a classification according to the importance of their impact on the property.
Furthermore, they are presented irrespective of the type of threat faced by the property, i.e. with specific and proven imminent danger ("ascertained danger") or with threats which could have deleterious effects on the property's Outstanding Universal Value ("potential danger").
** : All mission reports are not always available electronically.