Joya de Cerén Archaeological Site
El Salvador
Factors affecting the property in 2001*
Factors* affecting the property identified in previous reports
Need for a management plan
Hurricane in 1998 (issue resolved) 
International Assistance: requests for the property until 2001
Requests approved: 7 (from 1992-2000)
Total amount approved : 110,000 USD
Missions to the property until 2001**
Information presented to the Bureau of the World Heritage Committee in 2001
Previous deliberations:
Twenty-first extraordinary session of the Bureau (page number 25).
Main Issues: Damage to the site and its facilities caused by earthquake.
New information: The earthquake that shook the territory of El Salvador on 13 January 2001 caused considerable damage to the archaeological site of Joya de Ceren, damaging the excavated buildings as well as causing the banks of the excavations to collapse and the protective roof structures to be debilitated. The second quake on 13 February 2001 caused very little damage because first emergency consolidation measures were already in place.
The World Heritage Centre received an Emergency Assistance request of US$ 49,470 intended for cleaning-up of collapsed embankments and debris, consolidation of the ash surrounding the excavated vestiges and the consolidation and/or reconstruction of the protective roofing over the excavations. Furthermore the damages to the archaeological finds themselves (cracks, collapse and loss of architectural elements) shall be restored. This request is presently being processed.
Action Required
Note: this report was presented to the Bureau for noting only.
Summary of the interventions
Decisions adopted by the Committee in 2001
25 BUR V.281
State of conservation
V.281 The Bureau took note of information that the Secretariat had provided in the working document on the state of conservation of the following properties:
Noel Kempff Mercado National Park (Bolivia)
Morne Trois Pitons National Park (Dominica)
Huascaran National Park (Peru)
Lake Baikal (Russian Federation)
Hatra (Iraq)
Hiroshima Peace Memorial (Genbaku Dome) (Japan)
Joya de Ceren Archaeological Site (El Salvador)
Cultural Landscape of Sintra (Portugal)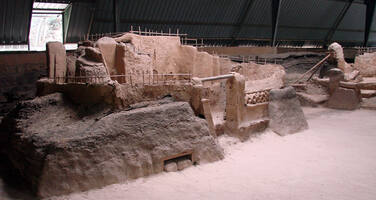 El Salvador
Date of Inscription:
1993
Category: Cultural

Criteria: (iii)(iv)

Documents examined by the Committee
25COM (2001)
Exports
---
* : The threats indicated are listed in alphabetical order; their order does not constitute a classification according to the importance of their impact on the property.
Furthermore, they are presented irrespective of the type of threat faced by the property, i.e. with specific and proven imminent danger ("ascertained danger") or with threats which could have deleterious effects on the property's Outstanding Universal Value ("potential danger").
** : All mission reports are not always available electronically.