Hatra
Iraq
Factors affecting the property in 2001*
Human resources
Illegal activities
Management activities
Management systems/ management plan
Water (rain/water table)
Other Threats:

particularly worrying state of conservation
Factors* affecting the property identified in previous reports
major looting of Iraqi archaeological sites
International Assistance: requests for the property until 2001
Requests approved: 1 (from 1999-1999)
Total amount approved : 3,500 USD
Missions to the property until 2001**
Information presented to the Bureau of the World Heritage Committee in 2001
Main issues: Poor state of conservation; Looting
New information:
A staff member of the Secretariat, accompanied by representatives from the Iraqi Ministry of Culture and the Department of Heritage and Antiquities, carried out a mission to Hatra in May 2000, to evaluate its general state of conservation.
Due to the difficult conditions that the country has faced over the last decade, the state of conservation of this very large site is particularly worrying. Among the main factors affecting the property, as stressed also by the Iraqi authorities in their periodical report, are the lack of maintenance, lack of trained personnel and looting. Conservation problems are also caused by the extensive use of cement in past restoration works, which in the presence of raising damp from the water table produces salts efflorescence damaging the original stones of the ancient buildings. Finally, the absence of an reliable survey of the site and its monuments and of regular monitoring prevents the definition of management and conservation plans.
The Iraqi authorities requested verbally assistance to train site staff in identifying conservation priorities, surveying the site, preparing and implementing a long term management plan for the conservation and presentation of Hatra.
The Secretariat intends to send a short expert mission to Hatra to identify the scope, modalities and estimated cost of a training activity to be provided to staff from the Iraqi Department of Heritage and Antiquities through the World Heritage Fund.
Action Required
Note: this report was presented to the Bureau for noting only.
Decisions adopted by the Committee in 2001
25 BUR V.281
State of conservation
V.281 The Bureau took note of information that the Secretariat had provided in the working document on the state of conservation of the following properties:
Noel Kempff Mercado National Park (Bolivia)
Morne Trois Pitons National Park (Dominica)
Huascaran National Park (Peru)
Lake Baikal (Russian Federation)
Hatra (Iraq)
Hiroshima Peace Memorial (Genbaku Dome) (Japan)
Joya de Ceren Archaeological Site (El Salvador)
Cultural Landscape of Sintra (Portugal)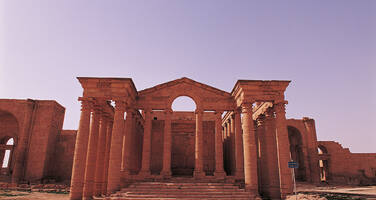 Iraq
Date of Inscription:
1985
Category: Cultural

Criteria: (ii)(iii)(iv)(vi)

Danger List (dates): 2015-present
Documents examined by the Committee
25COM (2001)
Exports
---
* : The threats indicated are listed in alphabetical order; their order does not constitute a classification according to the importance of their impact on the property.
Furthermore, they are presented irrespective of the type of threat faced by the property, i.e. with specific and proven imminent danger ("ascertained danger") or with threats which could have deleterious effects on the property's Outstanding Universal Value ("potential danger").
** : All mission reports are not always available electronically.