K'gari (Fraser Island)
Australia
Factors affecting the property in 2000*
Financial resources
Impacts of tourism / visitor / recreation
Management systems/ management plan
International Assistance: requests for the property until 2000
Requests approved: 0
Total amount approved : 0 USD
Missions to the property until 2000**
Information presented to the Bureau of the World Heritage Committee in 2000
New information: IUCN has informed the Centre that it has received a number of reports raising issues relevant to the state of conservation of this site. These include:
Impacts associated with increasing tourism, particularly on fresh water environments and the unique dune lake system;
Adequacy of the fire management programme implemented in the site; and
Reduction in state government funding for the management of this site, which has been associated with pressures to emphasise on site revenue generation mechanisms.
Furthermore, IUCN has noted that the Fraser Island Scientific Advisory Committee has undertaken a review of the World Heritage values of the site and a report on the findings of the review is due to be completed in 2000.
Action Required
The Bureau invites the State Party to study the issues raised by IUCN and consider extending the application of ACIUCN's assessment and consultation process to include the Fraser Island. The Bureau requests that the State Party submit the report of the Fraser Island Scientific Advisory Committee on World Heritage values of the site to the World Heritage Centre as soon as it is ready during the course of this year (i.e. 2000). In the event that the State Party is able to submit that report to the Centre, before 15 September 2000, the Bureau requests IUCN to review the report and submit its findings to the twenty-fourth extraordinary session of the Bureau in November 2000.
Decisions adopted by the Committee in 2000
24 BUR IV.B.25
Fraser Island (Australia)
Concerning the reports received, IUCN noted that the IUCN Task Force on Management Effectiveness has outlined a programme to improve the monitoring of World Heritage sites and a proposal has been submitted for support of the UN Foundation. IUCN pointed out that this methodology is already being applied by the relevant Australian authorities in Fraser Island, and the State Party is to be commended for this approach. IUCN also proposed that the ACIUCN process be extended to include Fraser Island taking full account of the work undertaken on management effectiveness.
The Bureau invited the State Party to assist ACIUCN in the possible extension of the ACIUCN assessment and consultation process to include Fraser Island and to transmit this information for the periodic report of the State Party in 2002. The Bureau requested that a progress report be submitted for information to the twenty-fourth extraordinary session of the Bureau in November 2000.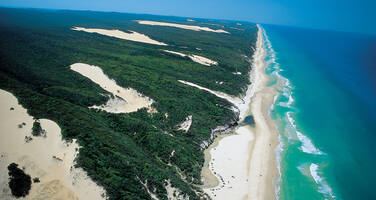 Australia
Date of Inscription:
1992
Category: Natural

Criteria: (vii)(viii)(ix)

Documents examined by the Committee
24COM (2000)
Exports
---
* : The threats indicated are listed in alphabetical order; their order does not constitute a classification according to the importance of their impact on the property.
Furthermore, they are presented irrespective of the type of threat faced by the property, i.e. with specific and proven imminent danger ("ascertained danger") or with threats which could have deleterious effects on the property's Outstanding Universal Value ("potential danger").
** : All mission reports are not always available electronically.