Roman Monuments, Cathedral of St Peter and Church of Our Lady in Trier
Germany
Factors affecting the property in 1998*
Factors* affecting the property identified in previous reports
Construction of urban villas and proposed urban development scheme
International Assistance: requests for the property until 1998
Requests approved: 0
Total amount approved : 0 USD
Missions to the property until 1998**
Information presented to the Bureau of the World Heritage Committee in 1998
The World Heritage Committee at its twenty-first session in December 1997, expressed its concern about new adjacent constructions north of the Roman theatre which may affect its authenticity. The Committee requested the State Party to submit, by 15 April 1998, a report on the following issues: revision of the plans respecting the authenticity of the monument; conservation and integration of recently discovered Roman ruins; adoption of an enlarged protective zone.
The World Heritage Centre has not, as of yet, received the report.
Action Required
The Bureau, based on information that may be available at the time of the twenty-second session of the Bureau, may recommend appropriate actions to the consideration of the State Party and the Committee.
Summary of the interventions
Decisions adopted by the Committee in 1998
22 BUR V.B.44
Roman Monuments, Cathedral and Liebfrauen Church in Trier (Germany)
The Bureau took note of the report provided by the German authorities and of the information provided by ICOMOS on the participation of its expert in a consultative meeting on the Roman amphitheatre that took place in February 1998. It was reported that the planned buildings north of the amphitheatre are now at an acceptable distance from the theatre and that their overall volume had been reduced considerably.
The Bureau expressed its satisfaction that the main requirements to protect the integrity and authenticity of the Roman amphitheatre had now been fulfilled by reaching a compromise solution between private interests on the one hand, and the interests of urbanists and archaeologists on the other. The Bureau stressed that the integration of the archaeological remains that were discovered during the recent excavations requires further attention and reiterated that an extension of the protected area to include the adjacent vineyards is highly desirable to avoid further deterioration of the site and its setting.
The Bureau requested the German authorities to submit a report with particular attention to the issues of the archaeological remains and the extension of the site by 15 April 1999 for examination by the Bureau at its twenty-third session.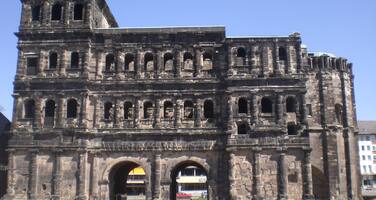 Germany
Date of Inscription:
1986
Category: Cultural

Criteria: (i)(iii)(iv)(vi)

Documents examined by the Committee
22COM (1998)
Exports
---
* : The threats indicated are listed in alphabetical order; their order does not constitute a classification according to the importance of their impact on the property.
Furthermore, they are presented irrespective of the type of threat faced by the property, i.e. with specific and proven imminent danger ("ascertained danger") or with threats which could have deleterious effects on the property's Outstanding Universal Value ("potential danger").
** : All mission reports are not always available electronically.