Itchan Kala
Uzbekistan
Factors affecting the property in 1998*
Factors* affecting the property identified in previous reports
Restoration works conducted using non-traditional building material
International Assistance: requests for the property until 1998
Requests approved: 0
Total amount approved : 0 USD
Missions to the property until 1998**
Information presented to the Bureau of the World Heritage Committee in 1998
The Bureau at its twenty-first extraordinary session decided to consider the findings of the ICOMOS mission to these sites at its twenty-second session.
Action Required
The Bureau, based on the report that will be given at the time of the twenty-second session of the Bureau, may recommend appropriate actions to the consideration of the State Party and the Committee.
Summary of the interventions
Decisions adopted by the Committee in 1998
22 BUR V.B.68
Itchan Kala (Uzbekistan) / Historic Centre of Bukhara (Uzbekistan)
The Bureau took note of the report presented by ICOMOS and commended the State Party on the importance it has attached to restoration and rehabilitation projects at these two sites. The Bureau, however, expressed concern over the development projects within the two sites, and urged the State Party to give special attention to the upgrading of street surfacing and furniture in the vicinity of the major monuments, to the control over non-listed buildings in the historic centres, and in the case of Bukhara, to the clearance of blocked cisterns and channels so as to lower the water table.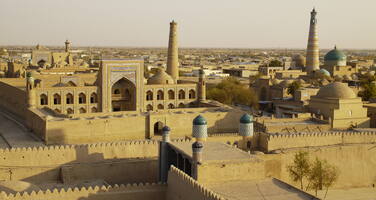 Uzbekistan
Date of Inscription:
1990
Category: Cultural

Criteria: (iii)(iv)(v)

Documents examined by the Committee
22COM (1998)
Exports
---
* : The threats indicated are listed in alphabetical order; their order does not constitute a classification according to the importance of their impact on the property.
Furthermore, they are presented irrespective of the type of threat faced by the property, i.e. with specific and proven imminent danger ("ascertained danger") or with threats which could have deleterious effects on the property's Outstanding Universal Value ("potential danger").
** : All mission reports are not always available electronically.