Ichkeul National Park
Tunisia
Factors affecting the property in 1990*
Factors* affecting the property identified in previous reports
Construction of dams; hunting; grazing and air pollution
International Assistance: requests for the property until 1990
Requests approved: 2 (from 1981-1989)
Total amount approved : 50,000 USD
Missions to the property until 1990**
Information presented to the Bureau of the World Heritage Committee in 1990
The Committee's decision to encourage the undertaking of activities, such as the building of the Tindja sluice and two other drainage canals to ensure the maintenance of the integrity of wetlands in the Ichkeul National Park, was communicated to the Tunisian authorities by a member of the Secretariat at an international seminar on the protection of the Ichkeul National Park, held in Tunis during 16-18 February 1990. This meeting was held under the patronage of the President of Tunisia, His Excellency Mr. Zine El Abidine Ben Ali. More than 200 expatriate specialists, including 48 from international agencies such as UNDP and FAO and countries like Algeria, Belgium, Federal Republic of Germany, France, Italy, Spain, UK and USSR, participated in the seminar, demonstrating an international commitment to safeguard this World Heritage Site. A technical cooperation request, for consideration for funding from the World Heritage Fund, to meet expenses related to expert services in the construction of the Tindja Sluice and for launching a public education campaign on the significance of Ichkeul, is expected to be received before the fourteenth session of the World Heritage Committee, scheduled for 10-14 December 1990.
Summary of the interventions
This report was not discussed during the World Heritage Committee session.
Decisions adopted by the Committee in 1990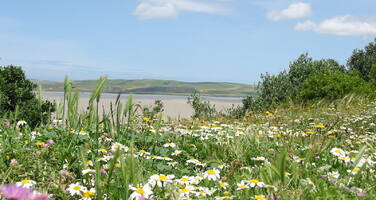 Tunisia
Date of Inscription:
1980
Category: Natural

Criteria: (x)

Danger List (dates): 1996-2006
Documents examined by the Committee
14COM (1990)
Exports
---
* : The threats indicated are listed in alphabetical order; their order does not constitute a classification according to the importance of their impact on the property.
Furthermore, they are presented irrespective of the type of threat faced by the property, i.e. with specific and proven imminent danger ("ascertained danger") or with threats which could have deleterious effects on the property's Outstanding Universal Value ("potential danger").
** : All mission reports are not always available electronically.