Ksar of Ait-Ben-Haddou
Morocco
Factors affecting the property in 2001*
Identity, social cohesion, changes in local population and community
Management systems/ management plan
Society's valuing of heritage
Other Threats:

This site has progressively become degraded
Factors* affecting the property identified in previous reports
Abandonment of the site and progressive deterioration
Lack of management plan
International Assistance: requests for the property until 2001
Requests approved: 1 (from 2001-2001)
Total amount approved : 2,500 USD
Missions to the property until 2001**
August 2000: World Heritage Centre expert mission
Conservation issues presented to the World Heritage Committee in 2001
A mission report dated August 2000 had formulated the following recommendations:
· Status of the site at the national level: finalise the process of listing the site, including the private properties included therein;
· Strengthen the capacities of the CERKAS responsible for the site;
· Create a management commission for the site;
· Create a working group to elaborate a management plan;
· Management plan to be completed by end 2001.
The report also recommended the inscription of the site on the List of World Heritage in Danger.
At the twenty-fourth extraordinary session of the Bureau, in Cairns, the Chairperson of the Committee made it clear that, should the proposed actions not be achieved by the end of 2001, the Moroccan authorities would submit a request for inclusion of the site on the List of World Heritage in Danger. A report on the progress of the activities was also due for submission to the twenty-fifth extraordinary session of the Bureau. At the time of preparation of the present working document, however, the Centre has not received such a report.
During a private visit to Ksar Ait Ben Haddou carried out in August 2001, the same expert, author of the first report, found that the above-mentioned actions had not been completed and that a Management Plan for the site had not been prepared.
Decisions adopted by the Committee in 2001
The Bureau may wish to adopt the following decision:
The Bureau may wish to examine new information that may be available at the time of its session and take the appropriate decision thereupon.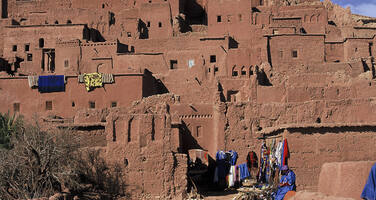 Morocco
Date of Inscription:
1987
Category: Cultural

Criteria: (iv)(v)

Documents examined by the Committee
25COM (2001)
Exports
---
* : The threats indicated are listed in alphabetical order; their order does not constitute a classification according to the importance of their impact on the property.
Furthermore, they are presented irrespective of the type of threat faced by the property, i.e. with specific and proven imminent danger ("ascertained danger") or with threats which could have deleterious effects on the property's Outstanding Universal Value ("potential danger").
** : All mission reports are not always available electronically.