Routes of Santiago de Compostela: Camino Francés and Routes of Northern Spain
Spain
Factors affecting the property in 2001*
International Assistance: requests for the property until 2001
Requests approved: 0
Total amount approved : 0 USD
Missions to the property until 2001**
Information presented to the Bureau of the World Heritage Committee in 2001
Main issues: Impact of barrage on section of the route.
New information:  The Secretariat has been informed about a project to construct an enlargement of a barrage in the regions of Navarra and Aragon ('el embalse de Yesa'). This enlargement would have as a consequence the inundation of some archaeological sites, a village, religious monuments and a stretch of five kilometres of the Route of Santiago between the villages of Artieda and Ruesta. The project foresees the relocation of the most important monuments and the reconstitution of the Route along the side of the lake. In June 2000, the Spanish authorities submitted extensive documentation on the possible impact of the barrage on the cultural heritage.
In March 2001, the Secretariat received a preliminary report from the Spanish ICOMOS Committee that had reviewed the documentation and undertaken a review in-situ. In the report, ICOMOS Spain expresses serious concern about the impact of the barrage on the Route of Santiago and the historical and social fabric of the villages and the area.
The Secretariat transmitted all documentation to ICOMOS for review and advice.
Action Required
The Bureau may wish to examine the advice of ICOMOS at the time of its session and take the appropriate decision thereupon.
Conservation issues presented to the World Heritage Committee in 2001
The twenty-fifth session of the Bureau requested ICOMOS to continue its dialogue with the Spanish authorities to assess the impact of the dam, its enlargement and to discuss proposed mitigation measures. The Bureau requested ICOMOS and the Spanish authorities to report on the results of these consultations.   
Summary of the interventions
This report was not discussed during the World Heritage Committee session.
Decisions adopted by the Committee in 2001
The Bureau may wish to examine information that may be available at the time of its session and take the appropriate decision thereupon.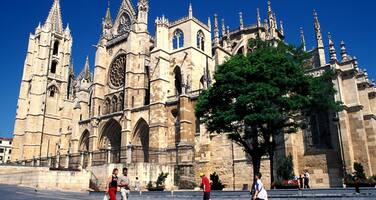 Spain
Date of Inscription:
1993
Category: Cultural

Criteria: (ii)(iv)(vi)

Documents examined by the Committee
25COM (2001)
Exports
---
* : The threats indicated are listed in alphabetical order; their order does not constitute a classification according to the importance of their impact on the property.
Furthermore, they are presented irrespective of the type of threat faced by the property, i.e. with specific and proven imminent danger ("ascertained danger") or with threats which could have deleterious effects on the property's Outstanding Universal Value ("potential danger").
** : All mission reports are not always available electronically.