Classical Weimar
Germany
Factors affecting the property in 2001*
Ground transport infrastructure
Factors* affecting the property identified in previous reports
Road proposal close to Tiefurt Castle and its Park in Weimar
International Assistance: requests for the property until 2001
Requests approved: 0
Total amount approved : 0 USD
Missions to the property until 2001**
April 2001: ICOMOS expert mission
Information presented to the Bureau of the World Heritage Committee in 2001
Previous deliberations:
Twenty-fourth session of the Committee (paragraph VIII.37; Annex X page 128)
Main issues: Impact of road project.
New information: A report on the impact of the construction of a road close to the Castle of Tiefurth was submitted by the German Federal State of Thuringia, on 4 January 2001. As requested by the Bureau an independent ICOMOS expert travelled to Weimar in April 2001 to examine the project.
Action Required
The Bureau may wish to examine information that will be provided by ICOMOS at the time of its session and take the appropriate decision thereupon.
Conservation issues presented to the World Heritage Committee in 2001
The report of the ICOMOS expert mission to Weimar in April 2001, clarified that the road proposal (Variant 1) would not have a negative impact on the fabric of the Castle and its grounds
New information:
The Bureau had requested the German authorities to prepare a progress report by 15 September 2001 on the mitigation measures taken. No report has been received at the time of the preparation of this document. 
Summary of the interventions
Decisions adopted by the Committee in 2001
25 BUR V.259-260
Classical Weimar (Germany)
V.259 An ICOMOS expert mission was undertaken to the site in order to assess the impact of a road construction project on the universal values of the site. ICOMOS presented the conclusions of the mission.
V.260 The Bureau notes the conclusion of the ICOMOS expert mission to Weimar, that the proposed bypass road (Variant 1): (i) will bring relief to the centre of the city of Weimar, (ii) will not have a negative impact on the fabric of the Tiefurt Schloss and its grounds and (iii) that mitigation measures will be able to conceal the road and will mitigate the effects of traffic on the road from possible viewpoints in Tiefurt Park. It requests the Secretariat to transmit the report to the German authorities for consideration, requesting them to prepare a progress report on the project and mitigation measures by 15 September 2001 for examination by the Bureau at its twenty-fifth extraordinary session.
The Bureau may wish to adopt the following decision:
"The Bureau requests the German authorities to prepare a progress report for 1 February 2002 for examination by the twenty-sixth session of the Bureau."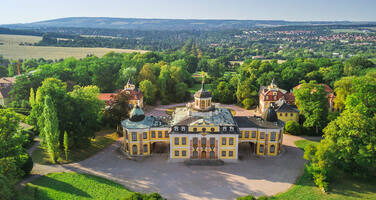 Germany
Date of Inscription:
1998
Category: Cultural

Criteria: (iii)(vi)

Documents examined by the Committee
25COM (2001)
Exports
---
* : The threats indicated are listed in alphabetical order; their order does not constitute a classification according to the importance of their impact on the property.
Furthermore, they are presented irrespective of the type of threat faced by the property, i.e. with specific and proven imminent danger ("ascertained danger") or with threats which could have deleterious effects on the property's Outstanding Universal Value ("potential danger").
** : All mission reports are not always available electronically.