Palaces and Parks of Potsdam and Berlin
Germany
Factors affecting the property in 1999*
Effects arising from use of transportation infrastructure
Housing
Legal framework
Management systems/ management plan
Factors* affecting the property identified in previous reports
Urban pressure
Current traffic planning
Need to review the legal protection of the site
International Assistance: requests for the property until 1999
Requests approved: 0
Total amount approved : 0 USD
Missions to the property until 1999**
1993: World Heritage Centre / ICOMOS joint mission
Conservation issues presented to the World Heritage Committee in 1999
Previous deliberations:
Twenty-second session of the Committee , Chapter VII.34)
New information: The German authorities informed the Secretariat that the fifth state of conservation report, requested by the Committee at its twenty-second session will be submitted by 15 October 1999. The contents of this report as well as the views of ICOMOS will be submitted during the session of the Bureau.
Decisions adopted by the Committee in 1999
23 COM VIII.C.2
Extension: Palaces and Parks of Potsdam and Berlin (Germany)
Property: Palaces and Parks of Potsdam and Berlin - Extension
Id. N°: 532 Ter
State Party: Germany
Criteria: C (i)(ii)(iv)
The Committee approved this extension to the World Heritage site of the Palaces and Parks of Potsdam and Berlin, on the World Heritage List under the existing criteria (i), (ii) and (iv).
23 COM X.B.37
SOC: Palaces and Parks of Potsdam and Berlin (Germany)
X.37 Palaces and Parks of Potsdam and Berlin (Germany)
The Committee recalled the report from the twenty-third extraordinary session of the Bureau on the state of conservation of this property and adopted the following decision:
"The Committee commended the German authorities for their fifth report on the state of conservation of the Parks and Palaces of Potsdam and Berlin. It acknowledged the efforts made to restrict as much as possible the negative effects of the Havel project (German Unity Project 17) on the integrity of the World Heritage site. Nevertheless, it considered that considerable threats persist to the landscape and certain historic monuments, such as the Sacrow Church and the Babelsberg Engine House.
The Committee wished to know whether it would be possible to restrict passage through the World Heritage site to standard-sized vessels and to develop the Havel Canal, which lies outside the site (the northern route) so as to permit the passage of larger vessels.
It requested the German authorities to continue its efforts to find a solution in conformity with the requirements of the World Heritage Convention. A report should be provided before 15 April 2000 in order that it may be examined by the Bureau at its twenty-fourth session."
The Bureau may wish to examine the fifth state of conservation report as well as ICOMOS' views that will be presented at the time of its session and take the appropriate decision thereupon.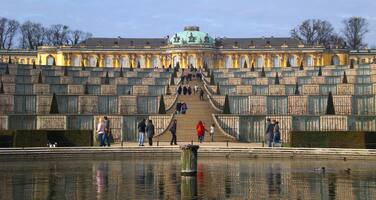 Germany
Date of Inscription:
1990
Category: Cultural

Criteria: (i)(ii)(iv)

Documents examined by the Committee
23COM (1999)
Exports
---
* : The threats indicated are listed in alphabetical order; their order does not constitute a classification according to the importance of their impact on the property.
Furthermore, they are presented irrespective of the type of threat faced by the property, i.e. with specific and proven imminent danger ("ascertained danger") or with threats which could have deleterious effects on the property's Outstanding Universal Value ("potential danger").
** : All mission reports are not always available electronically.