Canadian Rocky Mountain Parks
Canada
Factors affecting the property in 1995*
International Assistance: requests for the property until 1995
Requests approved: 0
Total amount approved : 0 USD
Missions to the property until 1995**
Conservation issues presented to the World Heritage Committee in 1995
The Committee is requested to examine the written and oral report presented by IUCN.
Decisions adopted by the Committee in 1995
19 COM VII.A.2.12
SOC: Canadian Rocky Mountain Parks (Canada)
VII.12 Canadian Rocky Mountain Parks (Canada)
The Committee recalled that the site was inscribed in 1984 (extension in 1990) and took note of the report presented by IUCN. The report underlines the infrastructural development of the "Bow Corridor", which is intensely used and developed. The Canadian authorities have set up a task force to look into this issue and the ecological integrity of the site. The Delegate of Canada took the floor and underlined that the Government of Canada recognizes the importance to study the problem and invited IUCN to cooperate with the task force by making submissions through its Canadian office. She furthermore emphasized that the results of the study will be brought to the attention of the Committee.
The Committee requested IUCN and the Centre to cooperate with the Canadian authorities and asked to be kept informed of the findings of the Bow Valley Task Force and its implication on the future of this part of the Canadian Rocky Mountain Parks World Heritage site.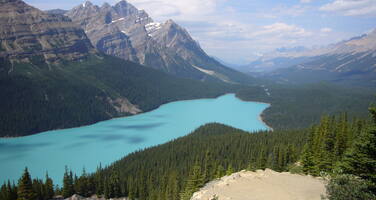 Canada
Date of Inscription:
1984
Category: Natural

Criteria: (vii)(viii)

Documents examined by the Committee
19COM (1995)
Exports
---
* : The threats indicated are listed in alphabetical order; their order does not constitute a classification according to the importance of their impact on the property.
Furthermore, they are presented irrespective of the type of threat faced by the property, i.e. with specific and proven imminent danger ("ascertained danger") or with threats which could have deleterious effects on the property's Outstanding Universal Value ("potential danger").
** : All mission reports are not always available electronically.