Fortifications on the Caribbean Side of Panama: Portobelo-San Lorenzo
Panama
Factors affecting the property in 1993*
Identity, social cohesion, changes in local population and community
Other Threats:

More attention to be paid to stone conservation
International Assistance: requests for the property until 1993
Requests approved: 4 (from 1980-1993)
Total amount approved : 76,800 USD
Missions to the property until 1993**
1993: expert mission
Conservation issues presented to the World Heritage Committee in 1993
[Oral report by ICOMOS and the Secretariat]
Summary of the interventions
Decisions adopted by the Committee in 1993
17 COM X
SOC: Portobelo-San Lorenzo (Panama)
Portobelo-San Lorenzo (Panama)
The state of conservation of the site had beens studied by an expert mission in 1993. The mission concluded that the Fortress of San Lorenzo was in an acceptable state of conservation, although stone conservation requires some special attention. The city of Portobelo is under pressure from increased population and deficient infrastructure. An action plan was drawn up for the execution of the necessary archaeological survey before construction works are undertaken in the town. Underwater excavations should not be considered as a priority.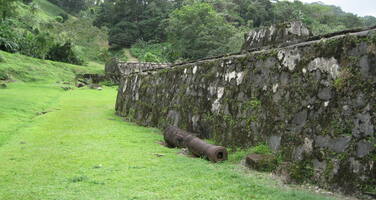 Panama
Date of Inscription:
1980
Category: Cultural

Criteria: (i)(iv)

Danger List (dates): 2012-present
Documents examined by the Committee
17COM (1993)
Exports
---
* : The threats indicated are listed in alphabetical order; their order does not constitute a classification according to the importance of their impact on the property.
Furthermore, they are presented irrespective of the type of threat faced by the property, i.e. with specific and proven imminent danger ("ascertained danger") or with threats which could have deleterious effects on the property's Outstanding Universal Value ("potential danger").
** : All mission reports are not always available electronically.