Olympic National Park
United States of America
Factors affecting the property in 1990*
Pollution of marine waters
International Assistance: requests for the property until 1990
Requests approved: 0
Total amount approved : 0 USD
Missions to the property until 1990**
Conservation issues presented to the World Heritage Committee in 1990
In response to the letter from the Secretariat dated 9 August 1990 transmitting the recommendations of the Bureau on the conservation of this site, the US authorities have provided a map indicating the additions to this site, its new boundaries and the new designated wilderness areas. They have also requested that the Committee formally consider including the new additions to the site as part of the property already inscribed on the World Heritage List (see document CC­90/CONF.004/10).
In regard to the recommendations of the Bureau regarding the precautions that need to be taken by the State Party to prevent future oil spills, similar to the "Nestuca Oil Spill", the US authorities have indicated that they have requested park officials to provide additional information on contingency plans that may be under consideration for future emergencies of this kind.
Decisions adopted by the Committee in 1990
14 BUR IV.A.18
Olympic National Park (United States)
The Bureau noted with satisfaction that, as requested by the Committee at the time of the inscription of this site in 1981, the American authorities had completed amendments to the legislation and added a coastal strip and a number of offshore rocks and islands to the park. The Bureau commended the American authorities for their effective implementation of the recommendations of the Committee and requested that the extensions to the park be formally proposed for inclusion in the World Heritage List. The Bureau, however, noted with concern the negative impacts of the 'Nestucca Oil Spill' which had occurred 90 km from the park's coastal zone and expressed the wish that the American authorities be prepared for similar events in the future with contingency plans to mitigate their negative impacts.
14 COM IX
SOC: Olympic National Park (U.S.A.)
Olympic National Park (U.S.A.)
The Committee noted with satisfaction that the USA authorities had proposed the addition of the Pacific coastal strip to the property inscribed in 1981, in accordance with the request made by the Committee.
14 COM VII.E
Boundary Modifications: Olympic National Park (United States of America)
Olympic National Park (United States of America)
The Committee welcomed the United States' proposal to include the coastal strip in the Olympic National Park, following its recommendation at its Fifth Session in 1981, when the site was inscribed. The Committee approved the new boundaries of this property.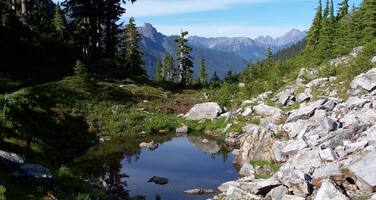 United States of America
Date of Inscription:
1981
Category: Natural

Criteria: (vii)(ix)

Documents examined by the Committee
14COM (1990)
Exports
---
* : The threats indicated are listed in alphabetical order; their order does not constitute a classification according to the importance of their impact on the property.
Furthermore, they are presented irrespective of the type of threat faced by the property, i.e. with specific and proven imminent danger ("ascertained danger") or with threats which could have deleterious effects on the property's Outstanding Universal Value ("potential danger").
** : All mission reports are not always available electronically.