2 news
Day
Monday, 7 December 2015
close
Monday, 7 December 2015
At COP21 on 5 December 2015, the President of Kiribati, Anote Tong, met with Mechtild Rössler, Director of the UNESCO World Heritage Centre. The President made a presentation at the event "UNESCO sites: a climate change observatory ", where he spoke of his strong commitment to World Heritage conservation. He described progress made with fishery regulations at the Phoenix Islands World ...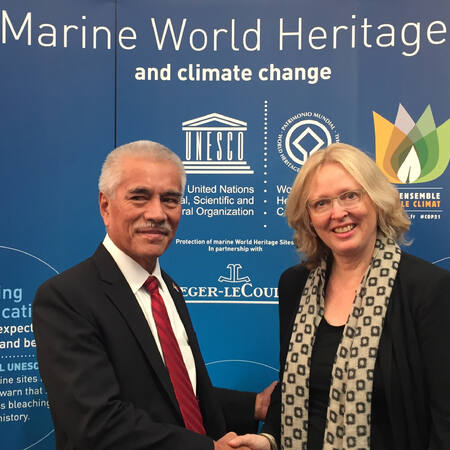 Monday, 7 December 2015
Armed conflict and natural disasters pose a dire threat to cultural heritage throughout the Asia-Pacific region. News stories are becoming all too frequent of priceless cultural treasures being damaged or lost forever and there are currently few measures in place to mitigate the effects of and recover from these dangers – even UNESCO World Heritage sites too often lack these ...
3 min read