Feng Jing/ 景峰
CHIEF OF UNIT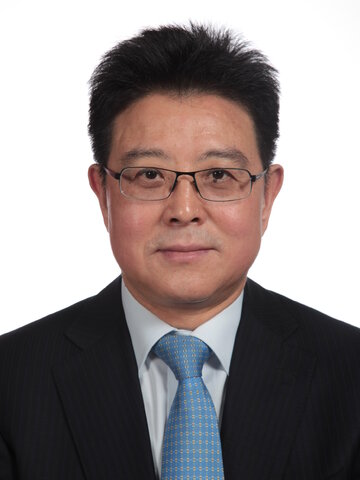 Mr Feng JING (景 峰) was educated in English literature, international relations and the history of architecture at Lanzhou University and Tsinghua University of China, from which he also holds a Doctorate degree in the history and theory of architecture. For the past thirty years, his career has combined professional experience in heritage management and international cooperation for culture . He has directed and managed the implementation of the 1972 World Heritage Convention and other major World Heritage conservation projects throughout the l of Asia and the Pacific, from the perspective of both the States Parties (as a member of the World Heritage Committee between 1992 and 1997) and the Secretariat (as a member of staff at the World Heritage Centre since 1997).
Mr JING is currently Chief of the Asia and the Pacific Unit at UNESCO's World Heritage Centre (Paris), where he is responsible for the implementation of the 1972 World Heritage Convention in 47 countries. He also heads the UNESCO Culture Sector's programme activities for tangible heritage in the Asia and the Pacific region and other associated World Heritage programmes in 15 Field Offices. In addition, Dr JING serves as Coordinator of Capacity-Building programme for the World Heritage Convention, the UNESCO Director-General's representative to the Governing Board of the World Heritage Category 2 Centres under the auspices of UNESCO and UNESCO Chairs in the Asia and the Pacific Region. He is also Coordinator of the Silk Roads World Heritage nomination project since 2003 and Focal Point of the World Heritage Programme for Small Island Developing States (SIDS).

Mr JING has published and co-authored some 30 publications and some 60 articles and reports on World Heritage, inter-cultural dialogue, sustainable development and UNESCO. His PhD dissertation "Research on the Serial Transnational World Heritage Nomination of the Silk Roads Cultural Route" was published in 2015 by China Science Press (Beijing) and reprinted in June 2019. His PhD research focused on the review of UNESCO's culture policy, the evolution of the concept of cultural heritage, particularly heritage route, and the impacts on the World Heritage system. The case study research, focused on the conceptualization of the serial transnational World Heritage nomination process of the Silk Roads, is significant in understanding this new trend in World Heritage conservation.
---
景  峰
联合国官员。现任联合国教科文组织世界遗产中心亚洲和太平洋部主任,全面负责亚洲和太平洋地区47个国家世界文化和自然遗产申报、监测、保护和管理工作。兼任丝绸之路系列跨国申遗项目协调员。
他先后在兰州大学外语系、清华大学建筑学院学习,获工学博士学位。曾在中央编译局和教育部(中国教科文全委会)工作,全面协调1972年《世界遗产公约》在中国的实施并多次代表中国出席世界遗产大会。1994年在教科文组织亚洲文化中心(ACCU) 研修。
景峰1997年起入职联合国教科文组织总部,长期从事世界遗产领域工作并与多个国际组织合作。景峰博士30多年的职场经历,既有在世界遗产保护和管理方面的理论研究与探索,又有在国际组织多边外交领域丰富的实践经验。他的其他兼职包括:《世界遗产公约》能力建设活动协调员、ICCROM文化遗产培训活动主管、世界遗产小岛屿国家能力建设项目协调员、亚太地区世界遗产2类机构和中心管委会理事及UNESCO 教习负责人;同时主管全球多个世界遗产信托基金项目(澳大利亚、意大利、日本、荷兰、挪威、瑞士、韩国等)。
他曾经在中国、欧洲多个著名大学和科研机构访问讲学。景峰博士的专著:《丝绸之路文化线路系列跨境申遗研究.》2015年由北京科学出版社初版、2019年6月再版。他与原中国建设部、国家文物局专家共同主编的《中国的世界遗产》大型学术画册,由中国建筑工业出版社1998年初版、2003年再版,曾荣获第十二届中国图书奖。他参与编写的《世界遗产与年轻人》一书 (World Heritage in young hands),1999年由教科文组织以英、法文出版,中文版2001年由上海三联书店出版。目前在全球以50多种文字出版发行。
他在世界遗产保护和管理研究及国际文化交流方面有中、英文学术著述和译作近30部, 发表论文、研究报告和申遗文本60多篇,主要涉及世界遗产、文化间对话、文化多样性、可持续发展和联合国教科文组织。
2017年2月,法国前总理拉法兰为景峰博士颁发法国参议院"法中友谊贡献奖章"。