Palace and Park of Versailles
France
Factors affecting the property in 1990*
Management systems/ management plan
Factors* affecting the property identified in previous reports
Inappropriate tree regeneration plan 
International Assistance: requests for the property until 1990
Requests approved: 0
Total amount approved : 0 USD
Missions to the property until 1990**
Information presented to the Bureau of the World Heritage Committee in 1990
[Information presented orally]
Summary of the interventions
Decisions adopted by the Committee in 1990
14 BUR IV.B.42
Palace and Park of Versailles (France)
At its thirteenth session, in December 1989, the Committee had expressed concern regarding the felling of trees in the park of Versailles Palace. The French observer informed the Bureau that, since that time, violent storms had devastated the park, bringing down more than 1,200 trees which, most fortunately, had not damaged in their fall any of the sculptures or buildings. The French observer added that the administration of both the park and the buildings at Versailles was now under the responsibility of a single department, which, together with all the other parties concerned, was giving serious thought to ways of repairing the damage and restoring the estate without spoiling the historical and aesthetic character of Versailles; the aim was to devise a management plan that would be satisfactory to all those concerned.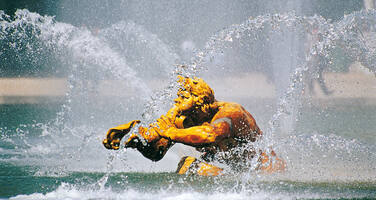 France
Date of Inscription:
1979
Category: Cultural

Criteria: (i)(ii)(vi)

Documents examined by the Committee
14COM (1990)
Exports
---
* : The threats indicated are listed in alphabetical order; their order does not constitute a classification according to the importance of their impact on the property.
Furthermore, they are presented irrespective of the type of threat faced by the property, i.e. with specific and proven imminent danger ("ascertained danger") or with threats which could have deleterious effects on the property's Outstanding Universal Value ("potential danger").
** : All mission reports are not always available electronically.