Arles, Roman and Romanesque Monuments
France
Factors affecting the property in 1994*
International Assistance: requests for the property until 1994
Requests approved: 0
Total amount approved : 0 USD
Missions to the property until 1994**
Information presented to the Bureau of the World Heritage Committee in 1994
[Oral report by the MAP/UNEP coordinator of the "100 historical sites" Programme]
Summary of the interventions
Decisions adopted by the Committee in 1994
18 BUR VI.B
Roman and Romanesque Monuments of Arles (France)
The MAP/UNEP Coordinator of the "100 historical sites" Programme emphasized the exemplary character of the conservation measures. He reported on the considerable financial support from the Municipality, and he briefly outlined the "Safeguard Plan for the Enhancement of the Safeguarded Sector of Arles". He also mentioned the plan for preventive action to combat atmosphericpollution to conserve the Primatiale Saint-Trophime. This project, partially financed by the World Monument Fund, has elaborated a 24-hour surveillance system which can detect and forecast atmospheric changes.
The Observer of Germany expressed his satisfaction with the work accomplished, and suggested that the French and German specialists involved in the conservation of the stone could exchange their observations and experiences.
The Bureau noted with satisfaction of the considerable efforts undertaken by the State and the Municipality, and reiterated their exemplary character.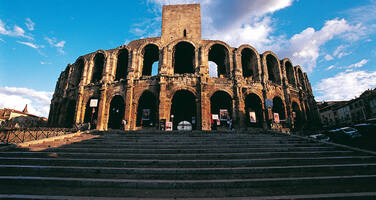 France
Date of Inscription:
1981
Category: Cultural

Criteria: (ii)(iv)

Documents examined by the Committee
18COM (1994)
Exports
---
* : The threats indicated are listed in alphabetical order; their order does not constitute a classification according to the importance of their impact on the property.
Furthermore, they are presented irrespective of the type of threat faced by the property, i.e. with specific and proven imminent danger ("ascertained danger") or with threats which could have deleterious effects on the property's Outstanding Universal Value ("potential danger").
** : All mission reports are not always available electronically.