Iguaçu National Park
Brazil
Factors affecting the property in 1989*
International Assistance: requests for the property until 1989
Requests approved: 0
Total amount approved : 0 USD
Missions to the property until 1989**
Information presented to the Bureau of the World Heritage Committee in 1989
These two parks which share the famous waterfalls on the border of Argentina and Brazil were separately listed in 1984 and 1987. Since then, the park agencies of the two countries have held a seminar to coordinate their management efforts in protecting the site. This includes harmonization of the two management plans, joint planning of tourism developments, and cooperation in law enforcement, research and monitoring. This action is to be commended as the falls and the surrounding forest area are truly one integrated unit and such transfrontier cooperation between State Parties is to be encouraged. The Administración de Parques Nacionales de la Argentina has also recently opened a new Centre for Subtropical Research in Iguazu.
Action Required
The Bureau may wish to act on the anomaly of having this site listed twice on the World Heritage list and to suggest to the State Parties that, in future, it could be given the name "Iguazu/Iguaçu National Parks, Argentina/Brazil."
Decisions adopted by the Committee in 1989
13 BUR IV.B.7
Iguazu National Park (Argentina) / Iguazu National Park (Brazil)
The Bureau noted with satisfaction that the two States Parties had recently undertaken measures to coordinate the management and protection of these contiguous parks containing the famous waterfalls. In response to the suggestion of the IUCN representative to encourage the States Parties' acceptance to list these waterfalls under one name on the World Heritage List, the representative of Brazil stated that his government had not changed its position on this matter and that the two sites should continue to be indicated separately on the World Heritage List.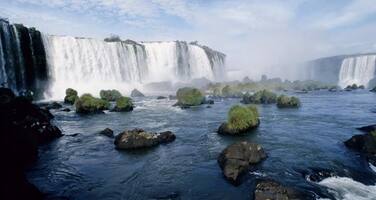 Brazil
Date of Inscription:
1986
Category: Natural

Criteria: (vii)(x)

Danger List (dates): 1999-2001
Documents examined by the Committee
13COM (1989)
Exports
---
* : The threats indicated are listed in alphabetical order; their order does not constitute a classification according to the importance of their impact on the property.
Furthermore, they are presented irrespective of the type of threat faced by the property, i.e. with specific and proven imminent danger ("ascertained danger") or with threats which could have deleterious effects on the property's Outstanding Universal Value ("potential danger").
** : All mission reports are not always available electronically.