Historic Walled Town of Cuenca
Spain
Factors affecting the property in 1998*
Ground transport infrastructure
Other Threats:

Cybernetic fountain; Panaromic lifts to serve the inscribed part from other quarters of the town
International Assistance: requests for the property until 1998
Requests approved: 0
Total amount approved : 0 USD
Missions to the property until 1998**
Information presented to the Bureau of the World Heritage Committee in 1998
The Spanish National Committee of ICOMOS informed the Centre of a series of projects which the Mayor of Cuenca intended to implement in the part of the Town inscribed on the List: cybernetic fountain, underground parking of 400 places, panaromic lifts to serve the inscribed part from other quarters of the town. These projects are in contradiction to the protection plan.
ICOMOS-Spain and the Centre have written to the Mayor to draw his attention to the dangers which threaten the site through the implementation of these urban projects and the national press have taken the matter up. The Mayor has therefore revised the proposals to be in conformity with the protection plan (fountain moved outside of the site, parking reduced to 140 places, lifts less conspicuous) and invited the World Heritage Centre to visit Cuenca to study with the Mayor the new proposals.
A mission to Cuenca is foreseen at the beginning of June and an oral report will be made to the Bureau.
Action Required
The Bureau, based on additional information that will be available at the time of the twenty-second session of the Bureau, may recommend appropriate actions to the consideration of the State Party and the Committee.
Decisions adopted by the Committee in 1998
22 BUR V.B.61
Historic Walled Town of Cuenca (Spain)
After having noted the report of the Secretariat, the Bureau commended the authorities of Cuenca as well as those of the Castilla-La Mancha for the positive attitude that they adopted in favour of the appropriate protection and management of the site. The Bureau requested that the authorities present to the Secretariat, as soon as it is ready, a special plan for Cuenca, and requested the Secretariat to provide technical assistance to the Town of Cuenca to this end. The Bureau then thanked ICOMOS-Spain for the positive role they played in this matter.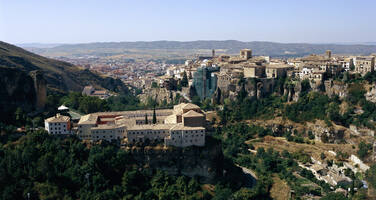 Spain
Date of Inscription:
1996
Category: Cultural

Criteria: (ii)(v)

Documents examined by the Committee
22COM (1998)
Exports
---
* : The threats indicated are listed in alphabetical order; their order does not constitute a classification according to the importance of their impact on the property.
Furthermore, they are presented irrespective of the type of threat faced by the property, i.e. with specific and proven imminent danger ("ascertained danger") or with threats which could have deleterious effects on the property's Outstanding Universal Value ("potential danger").
** : All mission reports are not always available electronically.