Historic Centre of Cordoba
Spain
Factors affecting the property in 1994*
International Assistance: requests for the property until 1994
Requests approved: 0
Total amount approved : 0 USD
Missions to the property until 1994**
Information presented to the Bureau of the World Heritage Committee in 1994
The Spanish authorities have presented an information note on the Mosque which can be summarized as follows:
"Whilst carrying out work on the roofs of the Mosque-Cathedral of Cordoba, the conservation architects discovered damage caused by termites in certain places. However, no activity of termites was apparent. Therefore, as a preventive action all wooden elements are being systematically treated with appropriate chemical products, and adequate conservation measures are being taken.
The Board of Culture and Environment of Andalusia which is responsible for this problem, is carrying out a follow-up of the state of conservation of the building, and over the past few years has carried out studies and diagnostics of the Mosque within the "Sectorial Plan of the Cathedrals of Andalusia" which, in turn, has carried out conservation and restoration work of the building and all the moveable properties.
At present, the afore-mentioned Board of Culture and Environment is preparing a new conservation project with a budget of approximately 30 million pesetas for 1994 and 1995, for the restoration of the galleries of the patio for ablutions, as well as for wood treatment, according to the procedure that has been followed until now. In the event that the diagnostics being carried out reveal the presence of termites in this part of the building, it is possible that the works will include the construction of a barrier in the subsoil of the exterior perimeter of the basement of the building to prevent the entry of these insects".
Decisions adopted by the Committee in 1994
18 COM XI
Extension and Change of Name: The Historic Centre of Cordoba (extension of the Mosque of Cordoba) (Spain)
The Historic Centre of Cordoba (extension of the Mosque of Cordoba)
313bis
Spain
C(i) (ii) (iii) (iv)
The Committee approved the extension of the existing World Heritage site of the Mosque-Cathedral of Cordoba to include its surroundings and endorsed the suggestion made by the Delegate of Spain to adopt the name "The Historic Centre of Cordoba".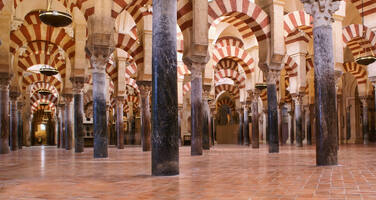 Spain
Date of Inscription:
1984
Category: Cultural

Criteria: (i)(ii)(iii)(iv)

Documents examined by the Committee
18COM (1994)
Exports
---
* : The threats indicated are listed in alphabetical order; their order does not constitute a classification according to the importance of their impact on the property.
Furthermore, they are presented irrespective of the type of threat faced by the property, i.e. with specific and proven imminent danger ("ascertained danger") or with threats which could have deleterious effects on the property's Outstanding Universal Value ("potential danger").
** : All mission reports are not always available electronically.