Quseir Amra
Jordan
Factors affecting the property in 1994*
Illegal activities
Management activities
Water (rain/water table)
Other Threats:

Cracks in the surface of the vaults
International Assistance: requests for the property until 1994
Requests approved: 0
Total amount approved : 0 USD
Missions to the property until 1994**
Information presented to the Bureau of the World Heritage Committee in 1994
Some cracks in the rough-rendered surface of the vaults are allowing water to penetrate, damaging the paintings; and the high-level windows, blown open by the wind, have allowed birds and bats to fly in, resulting in some streaks of droppings on the mural paintings.
The mural paintings are disfigured in many places by graffiti, and the signs which have been erected to deter visitors from touching the paintings are, themselves, fixed to the walls and disfigure the interior. A tourist was seen lifting a child over the protective metal barrier, erected to keep visitors away from the walls, to allow him to reach the mosaic-floored side rooms.
Although two attendants are employed in rotation to guard the site, neither one of them was on duty at the entrance gate nor inside the monument at the time of the visit of the UNESCO mission. It would be advisable that the Jordanian authorities ensure that the site be guarded at all times.
Summary of the interventions
Decisions adopted by the Committee in 1994
18 BUR VI.B
Quseir Amra (Jordan)
The Bureau expressed concern with the lack of general maintenance of the site, especially the lack of permanent and effective surveillance. It requested the World Heritage Centre to request the Jordanian authorities to take the necessary measures to ensure the satisfactory maintenance and management of the site.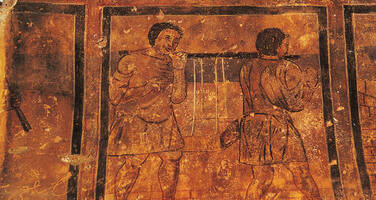 Jordan
Date of Inscription:
1985
Category: Cultural

Criteria: (i)(iii)(iv)

Documents examined by the Committee
18COM (1994)
Exports
---
* : The threats indicated are listed in alphabetical order; their order does not constitute a classification according to the importance of their impact on the property.
Furthermore, they are presented irrespective of the type of threat faced by the property, i.e. with specific and proven imminent danger ("ascertained danger") or with threats which could have deleterious effects on the property's Outstanding Universal Value ("potential danger").
** : All mission reports are not always available electronically.