Churches of Chiloé
Chile
Factors affecting the property in 2002*
International Assistance: requests for the property until 2002
Requests approved: 1 (from 2002-2002)
Total amount approved : 50,000 USD
Missions to the property until 2002**
Decisions adopted by the Committee in 2002
26 COM 21B.40
Churches of Chiloé (Chile)
The World Heritage Committee,
1. Commends the State Party for the rapidity of its intervention and for the detailed study provided summarizing the important damage caused by the winds;
2. Recommends that the requested emergency assistance be granted in order to finalize the work as soon as possible;
3. Requests the State Party to submit by 1 February 2003, a detailed progress report on the restoration works, for examination at its 27th session in June/July 2003.
26 BUR XII.114-115
Churches of Chiloé (Chile)
XII.114 The Bureau noted that on 14 March 2002, a 156 km/h wind struck the Grande Island of Chiloé causing important damage to the Churches of Chiloé :
the tower of the San Juan Church is in danger of collapsing;
a part of the roof of the Nuestra Gracia de Quinchao Church was blown away as well as four supporting props, and its porch was damaged;
the tower and the nave of the Tenaún Church is leaning to one side, the foundations of the lateral walls are unstable, the state of the former foundations was not known, this situation is worsened by the high humidity of some of the beams and the presence of wood pests on the ceiling of the central nave;
the gusts of wind made the tower of the Colo Church lean to one side, and the infiltration caused by the heavy rains have caused humidity at the foot of the beams;
finally, although the structure of the Nuestra Señora del Rosario de Chonchi Church was considered as being solid, this was the most damaged, losing with the force of the wind alone, its tower which was completely blown away. An emergency assistance has been requested from the World Heritage Fund.
XII.115 Following additional information provided by the State Party, the Bureau commended the State Party for the rapidity of its intervention, and requested a detailed report to be submitted to the 26th session of the Committee on the state of the site and the state of advancement of the restoration work being undertaken.
The Committee is requested to note the decision by the Bureau (please refer to document WHC-02/CONF.202/2 -paragraphs XII. 114-115.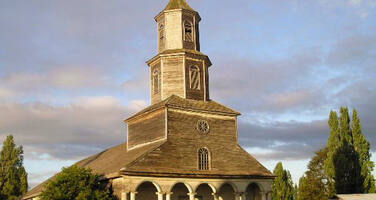 Chile
Date of Inscription:
2000
Category: Cultural

Criteria: (ii)(iii)

Documents examined by the Committee
26COM (2002)
Exports
---
* : The threats indicated are listed in alphabetical order; their order does not constitute a classification according to the importance of their impact on the property.
Furthermore, they are presented irrespective of the type of threat faced by the property, i.e. with specific and proven imminent danger ("ascertained danger") or with threats which could have deleterious effects on the property's Outstanding Universal Value ("potential danger").
** : All mission reports are not always available electronically.