Byblos
Lebanon
Factors affecting the property in 2000*
Management systems/ management plan
Factors* affecting the property identified in previous reports
Projet to expand the port (issue resolved)
Need for a Management Plan and a Master Plan
International Assistance: requests for the property until 2000
Requests approved: 1 (from 1999-1999)
Total amount approved : 10,000 USD
Missions to the property until 2000**
Conservation issues presented to the World Heritage Committee in 2000
A mission by ICOMOS to examine the state of conservation of the archaeological mound of Byblos, as requested by the Committee, has not taken place yet.
The provision of information concerning the second expert meeting in Byblos in November 1999 is pending. The publication of the proceedings by the Lebanese-American University is in preparation.
The conservation projects of the World Bank in Lebanon, of which UNESCO is in charge of co-ordination, are at this moment not moving. Information is requested from the Lebanese authorities.
Progress is being made in the writing of a Monograph on Byblos World Heritage site, a joint project by UNESCO-WHC and Delft University of Technology.
A follow-up on the two previous expert meetings on Byblos is scheduled for March 2001, in which a task force will be formed to decide on the Terms of Reference for a Management Plan and Master Plan for Byblos.
Decisions adopted by the Committee in 2000
24 COM VIII.iii.35-43
State of conservation reports of cultural properties which the Committee noted
VIII.35 Brasilia (Brazil)
Peking Man Site at Zhoukoudian (China)
The Potala Palace, Lhasa (China)
VIII.36 Islamic Cairo (Egypt)
VIII.37 Roman Monuments, Cathedral St Peter and Liebfrauen-Church in Trier (Germany)
Palaces and Parks of Potsdam and Berlin (Germany)
Classical Weimar (Germany)
Hortabagy National Park (Hungary)
VIII.38 Khajuraho Group of Monuments (India)

Sun Temple of Konarak (India)

Petra (Jordan)

Luang Prabang (Lao People's Democratic Republic)

Byblos (Lebanon)

Ksar Ait Ben Haddou (Morocco)

VIII.39 Island of Mozambique (Mozambique)

Lumbini, the Birthplace of the Lord Buddha (Nepal)

Fortifications on the Caribbean Side of Panama: Portobelo - San Lorenzo (Panama)

Archaeological Site of Chavin (Peru)

VIII.40 Rice Terraces of the Philippine Cordilleras (Philippines)
VIII.41 Baroque Churches of the Philippines (Philippines)
VIII.42 Cultural Landscape of Sintra (Portugal)
VIII.43 Istanbul (Turkey)
Complex of Hué Monuments (Vietnam)
The Bureau may wish to adopt the following and transmit it to the Committee for noting:
"The Bureau reiterates its request for an ICOMOS mission to examine the state of conservation of the archaeological mound and the presentation of the Byblos World Heritage site. In addition, it requests the Secretariat to further the co-ordination and co-operation with the Lebanese Government on the different projects and activities taking place. It also asks the Lebanese authorities to submit a report on the advancement of the World Bank financed conservation projects."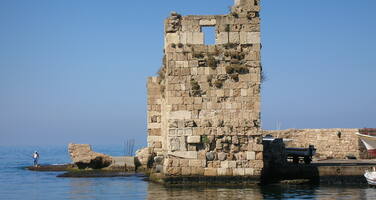 Lebanon
Date of Inscription:
1984
Category: Cultural

Criteria: (iii)(iv)(vi)

Documents examined by the Committee
24COM (2000)
Exports
---
* : The threats indicated are listed in alphabetical order; their order does not constitute a classification according to the importance of their impact on the property.
Furthermore, they are presented irrespective of the type of threat faced by the property, i.e. with specific and proven imminent danger ("ascertained danger") or with threats which could have deleterious effects on the property's Outstanding Universal Value ("potential danger").
** : All mission reports are not always available electronically.