Byblos
Lebanon
Factors affecting the property in 1999*
Management systems/ management plan
Factors* affecting the property identified in previous reports
Project to expand the port (issue resolved)
International Assistance: requests for the property until 1999
Requests approved: 1 (from 1999-1999)
Total amount approved : 10,000 USD
Missions to the property until 1999**
Conservation issues presented to the World Heritage Committee in 1999
Previous deliberations:
Twenty-third session of the Bureau - Chapter IV.66
New information:Additional information will be provided orally on the basis of the results of the Second International Seminar (10-14 November 1999, Byblos).
Summary of the interventions
Decisions adopted by the Committee in 1999
23 BUR IV.B.66
Byblos (Lebanon)
Having been informed that the only remaining building of the 19th century still standing in the inscribed archaeological zone has been allocated to a cultural institution and aware of the risks that this use might have on the site, the Bureau requested the Lebanese authorities to take no further action which might have a negative impact on this important archaeological site and recommended that another building situated outside of the site be provided.
23 COM X.B.39
SOC: Byblos (Lebanon)
X.39 Byblos (Lebanon)
The Committee recalled the reports from the twenty-third ordinary and the twenty-third extraordinary session of the Bureau on the state of conservation of this property and adopted the following decision:
"The Committee noted with satisfaction the quality of the cooperation that had been established with the Lebanese authorities and the Municipality of Byblos. It congratulated and thanked the Netherlands for its generous contribution and encouraged all parties to continue their efforts in favour of this site. The Committee requested the Secretariat and ICOMOS to organise a mission to examine the state of conservation of the archaeological mound of Byblos."
The Committee may wish to examine information that will be provided at the time of its session and take the appropriate decision thereupon.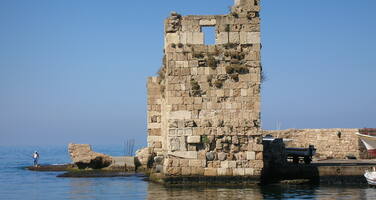 Lebanon
Date of Inscription:
1984
Category: Cultural

Criteria: (iii)(iv)(vi)

Documents examined by the Committee
23COM (1999)
Exports
---
* : The threats indicated are listed in alphabetical order; their order does not constitute a classification according to the importance of their impact on the property.
Furthermore, they are presented irrespective of the type of threat faced by the property, i.e. with specific and proven imminent danger ("ascertained danger") or with threats which could have deleterious effects on the property's Outstanding Universal Value ("potential danger").
** : All mission reports are not always available electronically.