City of Cuzco
Peru
Factors affecting the property in 1998*
Housing
Management activities
Management systems/ management plan
Factors* affecting the property identified in previous reports
Major urban rehabilitation projects
Institutional cooperation to be improved
International Assistance: requests for the property until 1998
Requests approved: 2 (from 1986-1997)
Total amount approved : 45,000 USD
Missions to the property until 1998**
Conservation issues presented to the World Heritage Committee in 1998
The Bureau, at its twenty-first session, reiterated the need for appropriate planning mechanisms for the Historic City of Cusco. At that Bureau welcomed the initiative to establish a Master Plan for the City but emphazised that in the process of its preparation and application arrangements should be made for the adequate co-ordination and collaboration between all institutions and authorities involved, particularly the National Institute for Culture and the Municipality of the City.
In November 1997, the Chairperson of the World Heritage Committee approved an amount of US$ 20,000 under Technical Co-operation for the preparation of the Master Plan. A contract to this effect was established with the National Institute for Culture. To date, however, this assistance could not be implemented due to the lack of appropriate co‑ordination between the Institute and the Municipality. Concerns about this situation were brought to the attention of the Permanent Delegation of Peru on 2 October 1998. In the meantime, the Secretariat has received expressions of concern about the lack of planning, the lack of application of the urban ordinances for preservation and new constructions that are considered inappropriate.


The Bureau expressed its concern about the state of conservation of the City of Cusco and urged the national and local authorities to make adequate arrangements for the preparation and application of a Master Plan for the city. It also urged to consider interventions in public spaces as well as new construction and rehabilitation works in full respect of the urban, architectural and historic values that are represented in the city as well as international standards of intervention in historic urban areas.
The Bureau requested the Peruvian authorities to inform the Secretariat of the actions taken in response to the above by 15 April 1999 for examination by the Bureau at its twenty-third session.
Decisions adopted by the Committee in 1998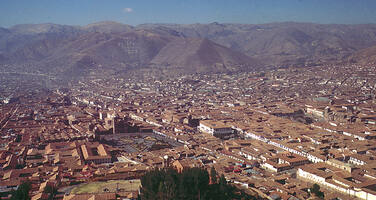 Peru
Date of Inscription:
1983
Category: Cultural

Criteria: (iii)(iv)

Documents examined by the Committee
22COM (1998)
Exports
---
* : The threats indicated are listed in alphabetical order; their order does not constitute a classification according to the importance of their impact on the property.
Furthermore, they are presented irrespective of the type of threat faced by the property, i.e. with specific and proven imminent danger ("ascertained danger") or with threats which could have deleterious effects on the property's Outstanding Universal Value ("potential danger").
** : All mission reports are not always available electronically.