Škocjan Caves
Slovenia
Factors affecting the property in 1995*
Legal framework
Management systems/ management plan
International Assistance: requests for the property until 1995
Requests approved: 0
Total amount approved : 0 USD
Missions to the property until 1995**
Conservation issues presented to the World Heritage Committee in 1995
The Committee is requested to examine the written and oral report presented by IUCN.
Summary of the interventions
Decisions adopted by the Committee in 1995
19 COM VII.A.2.20/22
SOC: Skocjan Caves (Slovenia)
VII.20 Skocjan Caves (Slovenia)
The Committee recalled that the site was inscribed on the World Heritage List in 1986 and took note of the report by IUCN on the field mission outlining that the size of the site had been expanded from 200 to 400 ha to better control the surface area of the underground caves. Actions by the State Party included expenditure of US$ 22 million on upstream pollution control, strengthening legislation, consideration of a buffer zone and proposals for new park offices and visitor facilities. The Delegate of Germany asked for clarification concerning the extended boundaries of the site.
The Committee commended the Slovenian authorities for taking significant actions to protect the site. The Committee requested the Centre to contact the authorities to provide a map of the revised boundaries and to encourage the State Party to finalize the new legislation and to begin the preparation of a management plan.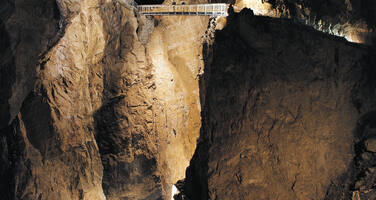 Slovenia
Date of Inscription:
1986
Category: Natural

Criteria: (vii)(viii)

Documents examined by the Committee
19COM (1995)
Exports
---
* : The threats indicated are listed in alphabetical order; their order does not constitute a classification according to the importance of their impact on the property.
Furthermore, they are presented irrespective of the type of threat faced by the property, i.e. with specific and proven imminent danger ("ascertained danger") or with threats which could have deleterious effects on the property's Outstanding Universal Value ("potential danger").
** : All mission reports are not always available electronically.