Kahuzi-Biega National Park
Democratic Republic of the Congo
Factors affecting the property in 1994*
Identity, social cohesion, changes in local population and community
Illegal activities
War
Factors* affecting the property identified in previous reports
Proposed construction of a highway (issue resolved)
International Assistance: requests for the property until 1994
Requests approved: 4 (from 1980-1994)
Total amount approved : 63,870 USD
Missions to the property until 1994**
Conservation issues presented to the World Heritage Committee in 1994
Kahuzi Biega National Park, inscribed on the World Heritage List under criterion (iv) in 1980, and Virunga National Park, inscribed under criteria (ii)(iii)(iv) in 1979, both contain the last population of mountain gorillas.
Due to the tragic events in Rwanda, both parks are under threat given the massive arrival of refugees from Rwanda. On 31 August 1994 the World Heritage Centre was informed that a UNHCR refugees camp for 50,000 people was going to be established near a three-kilometre strip of the Kahuzi-Biega National Park near Ihembe. The World Heritage Centre contacted immediately the UNHCR (Geneva), the Director of IZCN, Mr. Mankoto Ma Mbaelele, (Kinshasa), who was carrying out monitoring missions at World Heritage sites in Zaire, and a bilateral project by the GTZ (Germany). The Centre obtained relocation of the camp near Uvira which took the pressure from the site.
However, in spite of the relocation of the camp, the entire region and particularly Virunga National Park, situated at the border between Rwanda and Uganda has been destabilized by the uncontrolled arrival of refugees causing deforestation and poaching at the sites. In order to assist Zaire in this critical state and to help stabilize the situation, the Chairperson of the World Heritage Committee approved a total of US$ 50,000 emergency assistance for both sites, Kahuzi-Biega National Park and Virunga National Park. With the relocation of the camp, the Kahuzi-Biega World Heritage site seems to be less threatened, whereas the situation at Virunga National Park remains very critical.
Analysis and Conclusion by World Heritage Centre and the Advisory Bodies in 1994
The Committee is requested to examine the report to be presented by IUCN and to consider then if any action should be taken.
Summary of the interventions
This report was not discussed during the World Heritage Committee session.
Decisions adopted by the Committee in 1994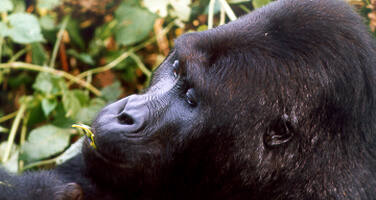 Democratic Republic of the Congo
Date of Inscription:
1980
Category: Natural

Criteria: (x)

Danger List (dates): 1997-present
Documents examined by the Committee
18COM (1994)
Exports
---
* : The threats indicated are listed in alphabetical order; their order does not constitute a classification according to the importance of their impact on the property.
Furthermore, they are presented irrespective of the type of threat faced by the property, i.e. with specific and proven imminent danger ("ascertained danger") or with threats which could have deleterious effects on the property's Outstanding Universal Value ("potential danger").
** : All mission reports are not always available electronically.